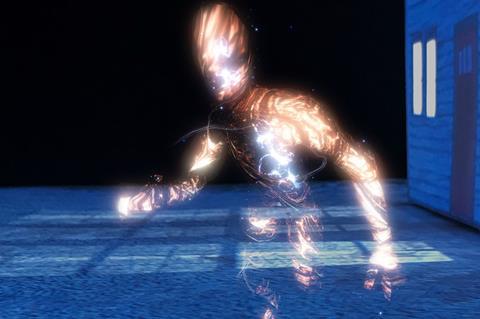 Augmented reality is likely to grow into a trillion dollar business whose extraordinarily lifelike experiences will both entertain and raise considerable ethical questions, Paramount's futurist in residence told a New Frontier panel at Sundance this week.
Speaking at Monday's session 'The Second Coming Of AR' in The Box at The Ray, Ted Schilowitz warned that AR, an artificially enhanced ecosystem that blends interactive digital elements with the real world, will be capable of generating amazing and potentially terrifying experiences.
Schilowitz said once users reached the point where the image resolution and AR device were so effective that users forgot what they were doing, ethics would come into play. "You're building a digital reality in an office space, in a living room or in a new kind of space that creates this kind of simulation behavior," he said, adding that the bigger the play, the more amazing the experience. "But it's also terrifying if you don't know what you're getting into."
Asking how the form could impact spatial storytelling, moderator and experiential journalist Kent Bye turned to Alice Wroe, a creative designer at Magic Leap who worked on Mica, the company's human digital assistant that appears when users wear a special pair of glasses.
Wroe noted how a user could change Mica's 'physical' space by responding to her request to hang an actual frame on an actual physical hook on a wall. The experience continues when the user and Mica view the digital artwork together.
"You are engaging with culture together," said Wroe. "I think it's really exciting to negotiate space – physical and virtual – with a character and the emotional connection that is possible because of that shared space."
Artist and director Peter Flaherty of Flaherty Pictures emphasised that kinematics, or motion through space in an emotional narrative context, was highly critical to his work. Flaherty's Sundance exhibition The Dial (pictured) is a drama that calls for a certain level of empathy for the characters as the user moves through space and chooses a narrative path in a story that is not simply binary.
"It's not just left and right [or] one and two," said Flaherty. "You choose your own adventure style." The piece combines AR and projection mapping, in which the user controls time by moving his or her body.
Schilowitz said AR required a user to sit within it and explore through one's physical body. "The level of sophistication we can reach now with these tools is so insanely powerful that we can create this thing called 'virtual real,'" he said. "And it's artificial, which is part of the power of it. And [what] you're talking about [is] the journey – how you get to all of these places."
Third person content becomes amplified in the AR space, superseding virtual reality (VR), said Ryan Horrigan, the co-founder and CEO of Artie, an AI/AR company that creates a platform for avatars. Horrigan said this type of content allowed more freedom for users. "First person is very hard. When you have to contextualise yourself as a character, you then have to have the roles of being in that scene and having the laws of that world."
The panel also addressed rules and ethical standards, which may not be widespread yet, but need to evolve. Horrigan cautioned that while his fellow panellists probably do know what they were in for when they explored AR, casual users might not.
He explained that for those who have not yet tried an AR device, it would be hard to anticipate the resulting pressure or emotion – and therein lay the danger. Horrigan added he had yet to see any sort of preamble or rating system cautioning the user in cases where content was graphic or sexual in nature, which was also cause for concern.