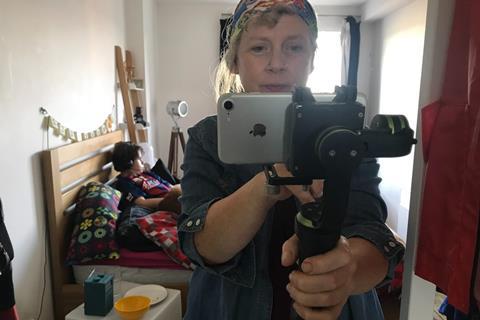 Austrian documentary specialist Autlook Filmsales has picked up international rights to Victoria Mapplebeck's Motherboard, one of the most talked about feature projects at this week's IDFA Forum pitching event in Amsterdam.
Shot on a smartphone, Motherboard has been 18 years in the making. Mapplebeck turned the camera on herself when she found herself single, pregnant and broke. Unable to combine the life of a freelancer with raising a child alone, the filmmaker let go of her career in TV. But she never gave up filming, and collected a vast archive of photos and videos, capturing every day of the life she has shared with her now-teenaged son.
Motherboard is co-produced by Carol Nahra, a documentary journalist, programmer, producer and lecturer. The executive producer is Mapplebeck's long-time collaborator Debbie Manners, with whom she jointly received a Bafta for the short film Missed Call in 2019. The film is also executive produced by the UK's Adam Gee.
"Many women are raising children alone, by choice or by circumstance. In TV drama, there's a growing appetite for unfiltered, unromanticised portraits of family life "said Mapplebeck. "But where are the documentary stories exploring the emotions of real-life women navigating relationships, friendships, careers and motherhood?"
"Motherboard is the creative and singular work of a fantastic filmmaker," Salma Abdalla, CEO of Autlook told Screen,
Autlook Filmsales' IDFA slate also includes awards hopeful Three Minutes – A Lengthening by Bianca Stigter, Belushi by R.J. Cutler, Sundance favourite Writing With Fire by Rintu Thomas and Sushmit Ghosh and Theo Anthony's All Light Everywhere.