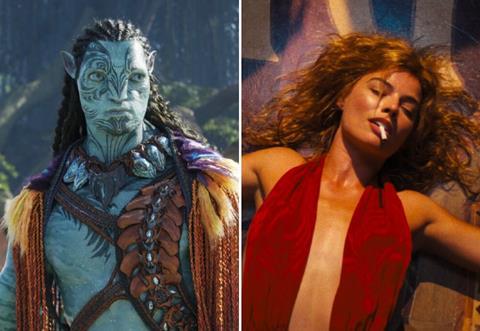 World box office January 20-22
| Rank | Film (distributor) | 3-day (world) | Cume (world) | 3-day (int'l) | Cume (int'l) | Territories |
| --- | --- | --- | --- | --- | --- | --- |
| 1. | Avatar: The Way Of Water (Disney) | $76m | $2.02bn | $56.3m | $1.4bn | 53 |
| 2. | The Wandering Earth 2 (various) | $69.4m | $69.4m | $69.4m | $69.4m | 5 |
| 3. | Full River Red (various) | $59m | $59m | $59m | $59m | 1 |
| 4. | Puss In Boots: The Last Wish (Universal) | $29.3m | $297.5m | $17.8m | $171m | 79 |
| 5. | M3GAN (Universal) | $20.7m | $124.6m | $10.9m | $51.3m | 67 |
| 6. | Hidden Blade (various) | $20m | $20m | $20m | $20m | 1 |
| 7. | Bonnie Bars: Guardian Code (various) | $19.2m | $19.2m | $19.2m | $19.2m | 1 |
| 8. | Five Hundred Miles (various) | $18.4m | $18.4m | $18.4m | $18.4m | 1 |
| 9. | Babylon (Paramount) | $13.4m | $28.4m | $13.2m | $13.2m | 54 |
| 10. | A Man Called Otto (Sony) | $12.5m | $55.3m | $3.5m | $20m | 32 |
Credit: Comscore, click top right to expand. All figures are estimates.
'Avatar 2' pushes towards all-time top five
Disney's Avatar: The Way Of Water retained the top spot at the global box in its sixth weekend of play, despite some significant challenges from a fist of titles released in China for the Lunar New Year holiday.
The Avatar sequel saw its pace flag in North America, with a 39% drop from the previous weekend, although the previous session benefited from leading into the Martin Luther King holiday Monday.
The Way Of Water grossed an estimated $19.7m in North America, taking the total there to $598.0m, and an estimated $56.5m for international (down 38%), bringing the total to $1.43bn. Those numbers combine for a $2.02bn global total.
The weekend saw The Way Of Water become the first film of the pandemic era to cross $2bn worldwide, in the process breezing past Spider-Man: No Way Home to become the sixth-biggest film of all time at the global box office.
Next in its sights in the all-time ranking is fifth-placed Avengers: Infinity War ($2.05bn) and then fourth-placed Star Wars: Episode VII – The Force Awakens ($2.07bn). (Significantly further ahead are the global top three: Avatar, Avengers: Endgame and Titanic.)
The Way Of Water remains either the top film or top non-local film in all major markets except Mexico, where DreamWorks Animation's Puss In Boots: The Last Wish snatched the box office crown. And it's now the biggest film of all time in 12 territories, including Austria, Hungary and Colombia.
In the international territory table for the film, China leads with $229.7m, ahead of France ($129.8m), Germany ($117.0m), South Korea ($96.9m) and UK/Ireland ($81.9m). Next come India ($57.9m), Australia ($55.1m), Mexico ($51.4m), Spain ($47.0m), Italy ($45.3m), Brazil ($39.9m) and Japan ($28.1m).
Will 'Babylon' be saved by international?
In North America, Paramount's release of Damien Chazelle's $80m-budget Babylon is considered a box office disappointment, with $15.2m after five weeks of release, and languishing in 16th place for the latest weekend chart. But could the international release come to the rescue?
Signs that international markets will collectively far outpace the domestic release are so far encouraging. Babylon landed in 53 territories at the weekend (accounting for 90% of the international rollout) and grossed an estimated $13.2m. In other words, in just a few days Babylon overseas has nearly matched the entire North America run to date.
France led the way, with the 1920s Hollywood odyssey opening in second place (behind Avatar: The Way Of Water) with an estimated $3.4m including previews.
UK/Ireland comes next, opening in third place with $1.8m, and then Australia with an estimated $1.0m, likewise opening in third place. Australia may deliver an extra bump, given the lead role for Queensland-born Margot Robbie, and likewise Mexico (where Babylon opened with an estimated $683,000), which is home to co-star Diego Calva.
Among major markets yet to open, South Korea welcomes Babylon on February 2, with Japan following on February 10.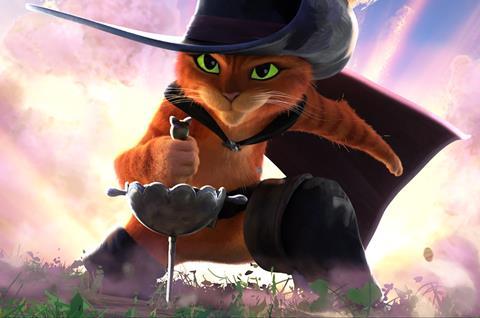 'Puss In Boots 2' closes in on $300m
Universal's release of DreamWorks Animation's Puss In Boots: The Last Wish achieved another strong weekend at the box office, dropping just 21% in North America and 19% in international markets.
In North America, the film added an estimated $11.5m in its fifth weekend of play, moving back up to second place (as M3GAN slid down), and delivering $126.5m so far.
In international, where the film has been on release a variable number of weeks across different territories (up to a maximum of seven), the Puss In Boots sequel added an estimated $17.8m, taking the total to $171.0m. Worldwide, the film has grossed $297.5 and is poised to join the $300m club.
Top international market at the weekend was Mexico, where box office rose 7% to an estimated $2.5m, knocking Avatar: The Way Of Water off the top spot. Next came Brazil with an estimated $1.6m, down just 18%.
In cumulative totals, France still leads the international pack with $18.3m, ahead of Mexico ($16.6m), Germany ($12.5m), Australia ($10.9m), Brazil ($9.6m), Spain ($7.8m) and China ($6.6m).
For the pandemic era, The Last Wish ranks third among animated titles from US studios, behind only Minions: The Rise Of Gru ($939.6m) and Sing 2 ($408.4m).
Future key markets are UK/Ireland on February 3 and Japan on March 17.
Also for Universal, sci-fi horror M3GAN took a tumble in both North America (down 46%) and international (down 43% in holdover markets). Brazil welcomed the film, delivering an estimated $1.4m.
Globally, M3GAN has reached $124.6m. For the pandemic era, the biggest horror hits from original screenplays are Smile ($216.1m) and Nope ($171.2m), while the genre is led overall by sequel A Quiet Place Part II ($297.4m).
M3GAN arrives this week in South Korea (on January 25) and is set for a June release in Japan.
Chinese New Year releases storm global chart
In Comscore's global top 10 for the January 20-22 weekend, China accounted for half of the titles in the chart, with major new releases landing in cinemas for the Lunar New Year.
Top among these is The Wandering Earth 2, director Frant Gwo's prequel to his 2019 sci-fi hit The Wandering Earth. The prequel's $69.4m opening is well down on the original film's $179.9m opening salvo, which was likewise timed for the New Year holiday. The Wandering Earth went on to gross $691m in China, and $700m worldwide.
Next comes Full River Red, Zhang Yimou's historical drama set at the beginning of the Southern Song dynasty (in the 12th century AD). Yimou's film opened with $59.0m, earning it third place in the global chart.
Landing lower down the chart are Second World War spy thriller Hidden Blade ($20.0m), animation Boonie Bears: Guardian Code (the ninth film in the series, opening with $19.2m) and comedy Five Hundred Miles ($18.4m).
The weekend total in China was $207.7m according to Artisan Gateway – which compares with $390.0m for the Lunar New Year weekend box office in 2022 (which was in early February). China is currently suffering from the impact of the Covid pandemic, after severe lockdown restrictions were lifted in December.