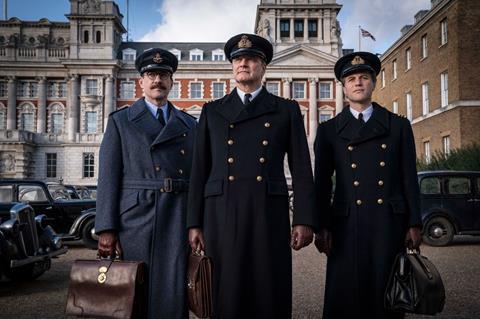 Bafta has confirmed it is taking a flexible approach to release-date eligibility for the 2022 film awards in the face of possible schedule disruption in the first quarter of 2022 and beyond due to a Covid-19 surge in the UK.
Last week Warner Bros moved John Madden's Operation Mincemeat from January 7, 2022 to April 2022. This took it outside the previously stated Bafta eligibility period that requires all films to be released to the public by March 11, 2022. (It is March 31, 2022 for foreign-language films and documentaries.)
However, in a change to those rules sent to all Bafta entrants of the 2022 film awards, the organisation has confirmed distributors can appeal to allow for a delayed release up to June 30, 2022.
"Bafta has very strict rules relating to eligibility periods. Given these unprecedented times, Bafta recognises that there may be insurmountable challenges faced by distributors in the first quarter of 2022," the new rule now states. "In light of that, and under the most exceptional of circumstances, the Film Committee will accept appeals to allow for a delayed release of a confirmed entered title up to 30 June 2022, outside of the published eligibility period.
The film awards will be held on March 13, 2022.
Period of uncertainty
As of December 20, 2021, cinemas are open in the UK at full capacity with no vaccine passports required but audiences must all wear masks. The planned release of films including Altitude's Palme d'Or winner Titane on December 26 are still in place.
However, the industry is watching nervously to see if new restrictions will be introduced by the UK government including proof of vaccination or a negative test to be required for audiences. The worst-case scenario is a temporary shutdown of cinemas as has been introduced in the Netherlands where they are now closed until January 14, 2022 and in Denmark, where there are closed until January 17. Ireland now requires cinemas to close at 20.00.
So far Warner Bros is the only distributor to make a pre-emptive move with the postponement of Operation Mincemeat, starring Colin Firth, Kelly Macdonald, and Matthew Macfadyen.
Based on a true story of personal heroism that helped to change the course of history, the UK film is a thriller set during World War 2, a genre which traditionally appeals to an older cinemagoing demographic.