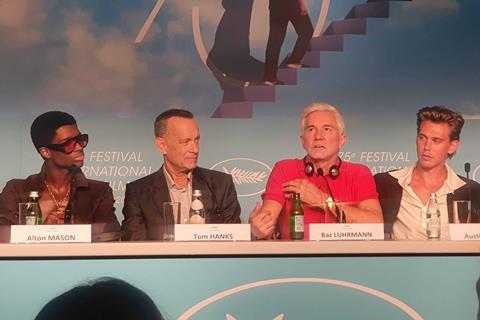 Baz Luhrmann has detailed the emotional response to Elvis from his most valued critics: the singer's wife Priscilla Presley, daughter Lisa-Marie Presley and granddaughter Riley Keough.
"Priscilla had fear about seeing it," said Luhrmann, speaking at the press conference for his Cannes Out of Competition title today (May 26). "So much has been said about the icon Elvis – he's wallpaper, he's a god – so many things that are just not true."
"Critical people have their job – some do it well, some not so," he continued. "No critique, no review was ever going to mean more to us than [that of] the woman who was married to Elvis Presley. I can't tell you how our stomachs felt when she went in to see that movie."
Luhrmann revealed he was on a plane when Priscilla was watching the film. "I heard a story when I landed – there was a security guard [for the screening room] who was crying, because of Priscilla's state. I thought 'Oh god, what have we done."
Fortunately for the director, Priscilla's response was positive. "She said 'I just wasn't ready for that'" related Luhrmann. "'If my husband was here today, he would look [Austin Butler, who plays Elvis] in the eye and say 'hot damn, you are me!'"
Wax museum
Butler detailed his intense process for taking on the iconic role, saying he watched the same one second clip repeatedly to try and capture the singer's spirit. "I thought if I worked hard enough, I could make my face exactly like Elvis' face," said Butler. "At a certain point it's like going to a wax museum.
"The tricky thing is being able to be there on the day and have it feel like it's happening for the first time."
A spirited Tom Hanks spoke warmly about his character Colonel Tom Parker, Elvis' manager.
"There would have been no Colonel Tom Parker without Elvis; no Elvis without Colonel Tom Parker," said Hanks. "[Parker] turned out to be this rather ingenious imp of the carnival, who seemed to enjoy robbing a kid out of 25 cents for a photo with Elvis, as much as he enjoyed robbing a casino in Las Vegas out of $25m."
Hanks joked that when Luhrmann contact him about doing Elvis, the actor thought it was unlikely he could play the lead. Luhrmann then said he wanted the star for the senior role.
"I said, 'I'm your man – now show me a picture of what the Colonel looks like'" said Hanks. "He showed me a picture and I thought – what the hell have I done?!"
The film premiered last night in the Palais, followed by a glitzy party with Elvis tracks including 'Jailhouse Rock' blasted out along the Croisette.
Luhrmann also said he has had discussions with musical theatre composer Andrew Lloyd Webber about a new film version of 1970 rock opera Jesus Christ Superstar.