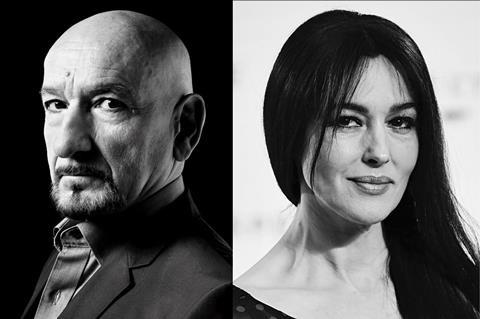 Ben Kingsley, Monica Bellucci and Israeli actor Itay Tiran will lead the cast of contemporary spy thriller Spider In The Web for director Eran Riklis.
Riklis' previous credits include 2009 drama The Lemon Tree, an award-winner in Berlin's Panorama strand, 2012 Toronto selection Zaytoun and 2004 comedy-drama The Syrian Bride.
Set to shoot in spring 2018 in Belgium and Holland, the film will see Kingsley play a highly-lauded secret agent, Adereth, who is deemed to be past his prime by his superiors. Haunted by his past, a last-minute redemption opportunity presents itself when he discovers a lead to the sales of chemical weapons to a middle-eastern dictatorship.
Bellucci is playing his enigmatic target Angela, while Tiran is young Mossad agent Daniel.
Writers on the film are Gidon Maron and Emmanuel Nakkache.
The project is an Israel-Belgium-Holland-Portugal co-production. Producers are Riklis, Michael Sharfshtein of Topia Communication, Moshe Edery and Leon Edery of United King Films, Jacqueline de Goeij for Cine Cri de Coeur, Sabine Brian and Ronald Versteeg for NL Films, and Eyal Edery for Dragocom.
Executive producers are Ira Riklis and Dana Lustig alongside Fabien Westerhoff from sales agent Film Constellation, which is co-financing and has boarded worldwide sales. The company will introduce the project to buyers at EFM in Berlin.