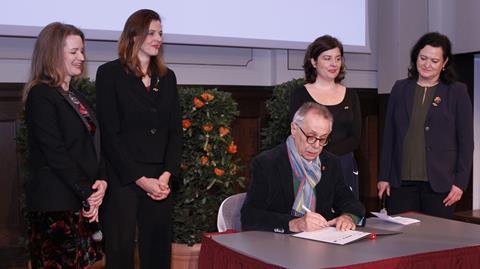 Berlinale director Dieter Kosslick became the latest signatory of the 5050x2020 festival gender equality charter at Women in Film and Television Germany's annual gathering in Berlin on Saturday.
The charter – launched at the last Cannes Film Festival by French gender parity movement 5050x2020 – aims to improve gender equality in the film selections of festivals around the world, as well as within their international structures and selection committees.
Other signatories have included Annecy, Sarajevo, Locarno, Venice, Toronto, IDFA and Rotterdam.
The Berlinale is the last big A-list festival to sign the charter, but due to where it falls in the festival calendar, rather than any reluctance on the part of Kosslick and the Berlinale management.
"We've spent close to a year taking the charter all over the world. This is our last A-list festival signing. The next step is to see some results," said Delphyne Besse, one of the 5050x2020 founders who attended the signing ceremony.
Kosslick pointed out that the Berlinale has a good track record in terms of female representation across staff, selection committees and its line-up, which this year features seven films by female directors in competition, accounting for a 40% share.
Looking at the composition of the festival's staff and selectors, he noted that the members of the selection committee for the competition and other key sections was 80.25% female and 18.75% male, while the staff working on all the other sections were 63% female and 36% male.