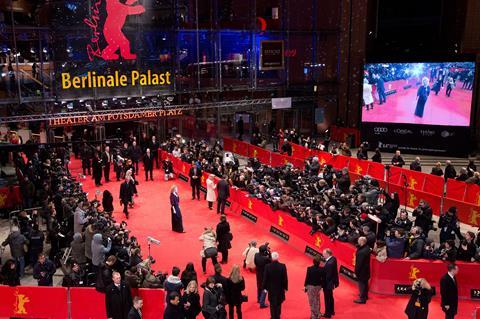 The Berlin Film Festival will hold separate demonstrations on the Berlinale Palast red carpet in solidarity with the people of Iran and Ukraine, during this month's festival.
On Saturday, February 18 at 14.55 CET, a demonstration of solidarity with Iran will take place at the Palast, after a panel earlier in the day on 'The Role of Cinema and the Arts in the Iranian Revolution' at the Hebbel am Ufer venue.
The demonstration will be attended by "various film teams, jury members and further filmmakers" according to the Berlinale.
For Ukraine, the show of solidarity will run on Friday, February 24 – one year to the day since the Russian attack on the country – at 18.10 CET at the Berlinale Palast.
Attendees will include Oleksii Makeiev, Ukrainian ambassador to Germany, European Film Market (EFM) delegations, representatives of Molodist Kyiv and Odesa film festivals, and members of the film teams from Ukrainian Berlinale 2023 titles Waking Up In Silence, Eastern Front and We Will Not Fade Away.
The demonstrations are in addition to previously announced activities, including a pin-on Berlinale badge and magnet in the Ukrainian national colours; a panel on financing options for Ukrainian screen content; and the project pitches of Odesa film festival, which cannot currently run due to the war.
The EFM is granting free market and festival accreditations to 50 Ukrainian filmmakers; and is providing free exhibition space and production assistance to the Ukrainian Film State Agency.
For Iran, the annual World Cinema Fund Day will focus on the realities of making films in the country, and the struggles faced inside and outside of the borders by Iranian filmmakers.
The 73rd Berlinale will run from February 16-26.