European premiere of animated musical Torrey Pines among festival highlights.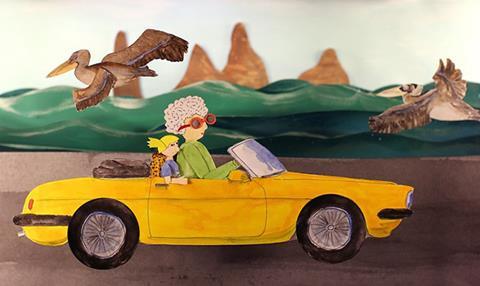 BFI Flare: London LGBT Film Festival (March 16-26) has revealed the line-up for its 2017 edition.
Now in its 31st year, the festival will feature more than 50 features and 100 shorts, as well as a range of special events, guest appearances and workshops.
As previously announced, this year's event will open with the world premiere of Against The Law, a BBC-produced political drama made in conjunction with the 50th anniversary of the 1967 Sexual Offences Act, which decriminalised homosexual acts between adult males in England and Wales.
One of the highlights of the main programme this year will be the European premiere of Torrey Pines [pictured], the stop-motion animation about a child grappling with gender identity and a schizophrenic mother.
The film world premiered at Seattle Queer Film Festival in October last year. At BFI Flare, the screening will be accompanied by a live score from director Clyde Peterson's band, Your Heart Breaks.
Programme highlights include the premiere of UK web series Different For Girls and the premiere of After Louie, in which Alan Cumming plays a New York artist whose life is turned upside down by an encounter with a much younger man.
Further titles playing at BFI Flare having debuted at other festivals include: The Handmaiden, Body Electric, and Below Her Mouth.
This year's festival will close with a screening of Signature Movie, a comedy-drama staring Pakistani-Canadian actress, Fawzia Mirza, Bollywood star Shabana Azmi and Mexican-American Sari Sanchez. The film is a cross-cultural romance about a lesbian living in Chicago with her recently widowed mother.
In the events programme, the BFI Network@Flare mentorships initiative, run with Bafta, will return for a third year, once again offering emerging filmmakers the opportunity to develop their industry knowledge and professional connections.
Further debates will include a discussion about the UK's pornography laws and a focus on director Jamie Babbit.
Tricia Tuttle, BFI deputy head of festivals commented: "If last year's 30th Anniversary of the Festival was time for reflection on just how far we've come, many world events in the 12 months since have reminded us just how vital this event still is.
"And what a programme we have to offer this year – it's vibrant, politically engaged, playful, stirring – and with a number of World, International and European Premieres on offer, BFI Flare is absolutely the place to see the best new LGBT cinema first."