Disney's latest animation lands with $6.45m (£4.295m), including previews; Fox's adaptation bows just behind with $6.37m (£4.24m), including previews, and posts Matthew Vaughn's best-ever Fri-Sun tally in process.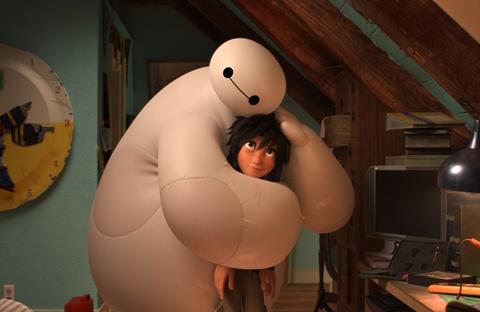 In a tighter race than most expected, Big Hero 6 has narrowly landed top of the UK box office ahead of Kingsman: The Secret Service.
Disney's latest animation bowed with $6.45m (£4.295m) from its 500 sites, including previews from limited one-off screenings on Jan 4. A huge Saturday of almost $3m (£2m) saw it to a Fri-Sun tally of $5.7m (£3.82m) which also topped the chart based solely on Fri-Sun takings.
In terms of Walt Disney Animation Studios outings in the UK, Big Hero 6 ranks behind the likes of behemoth Frozen ($7.1m/£4.7m from 505) and Wreck-It Ralph ($6.8m/£4.5m from 501). With school holidays coming up, Big Hero 6 is likely to receive a boost and could challenge Wreck-It Ralph's $35.6m (£23.7m) result.
It faces some potentially formidable family competition this coming weekend though with the arrival of StudioCanal's Shaun the Sheep Movie, which will look to emulate the success of stablemate Paddington.
Also for Disney, Into the Woods fell 46% on its way to a $1.1m (£734,000) fourth weekend for $12.6m (£8.41m) to date. Like Big Hero 6, it could also enjoy an uptake during half term to push it past £10m.
FOX
Despite missing out on top spot, Kingsman: The Secret Service enjoyed an excellent start as it charted second
Fox's adaptation fought its way to $6.37m (£4.24m), including $1m (£679,498) in previews, from its 533 sites to mark director Matthew Vaughn's second biggest UK debut behind X-Men: First Class' $8.2m (£5.4m) from 507 sites, including $3m (£2m) in previews.
In terms of Fri-Sun takings, Kingsman: The Secret Service's $5.4m (£3.6m) is ahead of X-Men: First Class' $5.2m (£3.4m) to rank as Vaughn's best-ever opening Fri-Sun result.
The superhero outing is currently Vaughn's best-ever UK performer with $22.6m (£15.03m), a target that could be in Kingsman's reach if it holds well this coming weekend.
Also for Fox, Taken 3 shot to a further $1.2m (£801,562) for $24.9m (£16.6m) after four weeks in play, while Night at the Museum: Secret of the Tomb unearthed $184,000 (£122,120) for $17.7m (£11.8m) to date.
Awards contenders Birdman and Wild have grossed $7.6m (£5.04m) and $1.9m (£1.3m), respectively.
WARNER BROS
As expected, American Sniper is now the highest grossing Clint Eastwood directorial outing in the UK.
Warner Bros' war drama may have fallen from the top spot but still posted a decent $2.4m (£1.6m) third weekend for $14m (£9.3m), outgrossing Gran Torino's $12.5m (£8.3m) result. Awards recognition later this month could see it aim for £15m and above.
Also for Warner Bros, Inherent Vice debuted with $540,000 (£360,000) from its 187 sites. That's just behind the $559,000 (£372,360) bow from 153 sites of Paul Thomas Anderson's previous outing, The Master, which went on to take $2.3m (£1.5m).
2014's biggest release The Hobbit: The Battle of the Five Armies has amassed $61.7m (£41.1m).
UNIVERSAL
Falling a respectable 36% in its fifth weekend, Universal's The Theory of Everything grossed $1.5m (£1.03m) for an excellent $25m (£16.64m) to date. It will likely be the first 2015 release to hit £20m in the coming weeks.
Also for Universal, Ex Machina disappointed in its second weekend as a 55% fall saw it take $615,000 (£409,000) for $3.1m (£2.05m) after 12 days in play.
Trash posted the lowest-ever UK bow for director Stephen Daldry with a soft $119,000 (£79,000) at a site average of $753 (£501). Despite the BAFTA nod, the film proved to be a tricky sell with its predominately Portuguese dialogue and local cast.
STUDIOCANAL
Barring a half term uptake, StudioCanal's Paddington is slowing down its excellent run at the UK box office, journeying to an $663,000 (£440,901) for a mighty $53.4m (£35.5m) to date.
Also for StudioCanal, The Imitation Game has reached $23.7m (£15.75m).
SONY
Annie has now sung its way to a healthy $11.1m (£7.4m) in the UK following a sixth weekend of $236,000 (£157,000) through Sony.
Also for Sony, Whiplash might not last in cinemas until the Oscars after a 68% drop in its third weekend, drumming up $185,000 (£123,000) for $2.4m (£1.63m) to date.
LIONSGATE
Testament of Youth recorded a third weekend of $172,000 (£114,734) for $2.1m (£1.4m) to date through Lionsgate.
Also for Lionsgate, Mortdecai suffered in its second weekend with $131,000 (£87,433) for $1.2m (£774,725) after ten days in play.
PARAMOUNT
With a hefty drop in its second weekend, Paramount's The Gambler added $112,000 (£74,000) for a ten-day tally of $987,000 (£656,000) and faces a struggle to crack the £1m mark.
KOCH MEDIA
Opening in 60 sites through Koch Media, Son of a Gun could only manage a UK debut of $32,000 (£21,065).
ICON FILM DISTRIBUTION
Also struggling in its second weekend was A Most Violent Year, taking $86,000 (£57,398) for $615,000 (£408,493) through Icon Film Distribution. It's overtaken Margin Call's $530,000 (£352,000) result, but is unlikely to catch All is Lost's $1.2m (£767,000).
EONE
After four weeks in play, eOne's awards contender Foxcatcher has amassed just over $3m (£2m) in the UK.
AXIOM FILMS
From 15 shows across its three sites, Pelo Malo (Bad Hair) grossed $3,000 (£1,995) on its UK bow through Axiom Films.
BEYOND CLUELESS
Self-distributed teen movie documentary Beyond Clueless played at Cardiff Chapter, London's ICA and London's Rio over its second weekend, taking $2,800 (£1,813) for $39,000 (£25,728) to date.
UPCOMING RELEASES
This week sees saturation releases for Warner Bros' Jupiter Ascending and StudioCanal's Shaun the Sheep Movie.
Sony's The Interview and Pathe's Selma both receive wide releases, while Arrow Films' Amour Fou, Curzon Film World's Still Life and Altitude's The Rendlesham UFO Incident are among the films receiving a limited release.