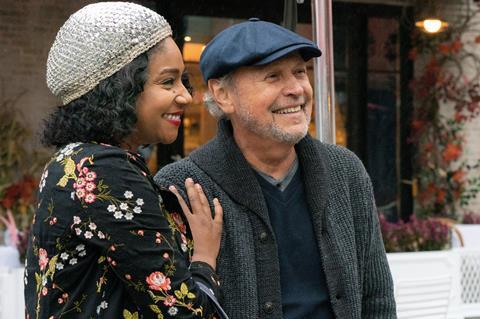 Billy Crystal's US comedy Here Today has been set at the closing film of this year's Edinburgh International Film Festival (EIFF, August 18-25).
It marks the first title to be announced for the 74th edition of the festival, which will host in-person screenings in the city and across Scotland as well as virtually via new streaming platform Filmhouse at Home.
Here Today stars Crystal as a veteran comedy writer who forms an unlikely friendship with a New York singer, played by Tiffany Haddish.
Crystal also co-wrote the feature with Alan Zweibel, whose short story The Prize inspired the film, and it marks his first as a director since sports drama 61* in 2001.
The film was released in the US by Stage 6 Films on May 7, taking £2.78m at the box office, and will receive its UK premiere at EIFF. Sony Pictures Releasing UK will give the comedy a theatrical release on September 3.
Crystal said of his film being selected to close the festival: "To have an audience sit inside a cinema together and share the experience of this film after these unusual times makes me very happy."
Here Today is co-produced by Astute Films, Crystal's Face Productions and Big Head Productions. Haddish also produced the film alongside Zweibel, Astute Films' Fred Bernstein and Dominique Telso.
EIFF, which recently appointed Kirsty Matheson as its new creative director, will reveal the full programme on July 28.