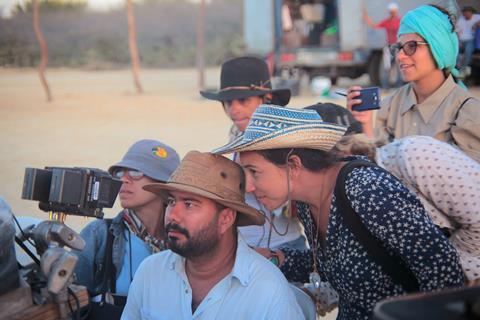 Birds Of Passage by Cristina Gallego and Ciro Guerra has won the $40,000 Knight MARIMBAS Award at the 36th Miami Film Festival.
The filmmakers' Ciudad Lunar Productions will split the festival's top jury prize with the film's US distributor The Orchard, which will distribute the film in select markets including Miami on March 15.
Sponsored by the John S. and James L. Knight Foundation, the award is presented to the film "that best exemplifies richness and resonance for cinema's future". The Audience Award for Best Feature went to Billy Corben's documentary Screwball from Miami-based production company Rakontur.
The $40,000 Knight Made in MIA Award, for films with stories and location shooting in south Florida from West Palm to the Keys, went to two films: $30,000 to best feature Pahokee, directed by Ivette Lucas and Patrick Bresnan, and $5,000 each to two shorts – Faren Humes' Liberty and Jayme Gershen's "Six Degrees Of Immigration"
The $10,000 HBO Ibero-American Feature Film Award was presented to Bani Khoshnoudi's Fireflies, which received its US premiere at the festival and was produced by Pensée Sauvage and Zensky Cine of Mexico.
The $10,000 Jordan Ressler First Feature Award went to Alexandre Moratto's Socrates from Brazil, the $5,000 Zeno Mountain Award went to the short autism drama My Daughter Yoshiko by Brian Blum, and the Rene Rodriguez Critics Award was presented to Jennifer Kent's The Nightingale from Australia.
The festival ran from March 1-10. To read about all the awards, click here.