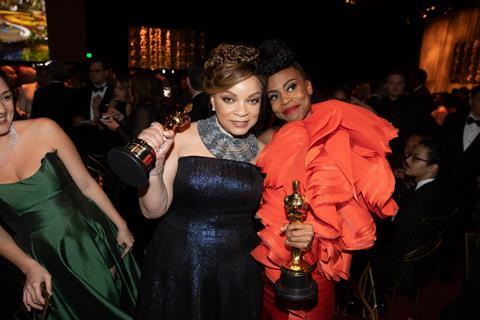 On a momentous night for racial diversity, Marvel Studios' Black Panther made history with a trio of Oscars, two of which struck a blow for African Americans.
Both production designer Hannah Beachler and costume designer Ruth E. Carter became the first African Americans to win in their respective categories. In the case of Beachler, she was also the first African American to be nominated for her category.
According to The New York Times, the women also became the first African Americans to win in non-acting categories since songwriter Irene Cara shared the original song Oscar for 'Flashdance…What A Feeling' in 1984 with Giorgio Moroder and Keith Forsey.
The three Oscar wins – the third was for Ludwig Göransson's best score – also marked the first Academy Awards for Marvel Studios, whose Black Panther directed by Ryan Coogler earned $700m at the North American box office and more than $1.3bn worldwide last year en route to becoming a cultural phenomenon.
An emotional Beachler, who shared her Oscar with Jay Hart, told the audience at Sunday's show: "I stand here with agency and self-worth because of Ryan Coogler. You not only made me a better designer, a better storyteller, a better person, I stand here because of this man who offered me a different perspective of life, who offered me a safe space, who's patient and gave me air, humanity and brotherhood."
Carter, who was nominated twice before for Amistad and Malcolm X, accepted her Oscar with these words: "Wow, this has been a long time coming. Spike Lee, thank you for my start. I hope this makes you proud. Marvel may have created the first black superhero but through costume design, we turned him into an African king. It's been my life's honour to create costumes. Thank you to the Academy. Thank you for honouring African royalty and the empowered way women can look and lead onscreen.
"Thank you to my crews around the world who helped bring Wakanda to life. Our genius director, Ryan Coogler, you are a guiding force. Thank you for your trust and understanding my role in telling the African-American story… My career is built with passion to tell stories that allow us to know ourselves better. This is for my 97-year-old mother watching in Massachusetts. Mom, thank you for teaching me about people and their stories. You are the original superhero."