Agreement makes Bona one of IMAX's top five exhibitor partners in China.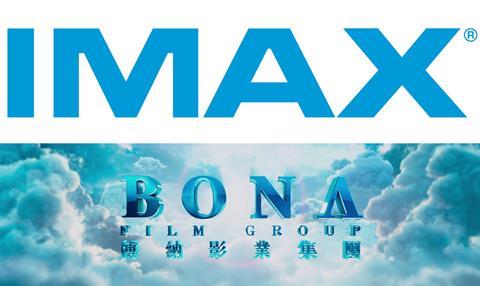 China's Bona Film Group has signed a deal with IMAX Corp and its subsidiary IMAX China Holding for 30 new screens to be located in multiplexes across China.
The two companies plans to open five IMAX theatres each year until 2022, which will make Bona one of the large-screen operator's top five exhibition partners in China with 35 locations.
Bona opened its first IMAX theatre in Tianjin in 2012, which it followed with installations in Beijing, Taiyuan, Wuhan and a fifth slated to open in Dalian.
Bona and IMAX also collaborated on the release of Tsui Hark's 2011 martial arts hit Flying Swords Of Dragon Gate – marking the first IMAX 3D presentation of a Chinese-language movie – as well as Jacob Cheung's White-Haired Witch in 2014.
"As one of the most influential film studios in China and a growing force in the nation's exhibition market, today's substantial sales agreement with Bona Film Group underscores the confidence China's leading industry players have in IMAX to deliver long-term strategic value," said IMAX CEO Richard L. Gelfond.
Bona Film Group founder and chairman Yu Dong said: "Today's agreement is a direct result of the tremendous success of our existing IMAX theatres and IMAX film releases."
In addition to production, distribution and a slate financing deal with Twentieth Century Fox and TSG Entertainment, Bona Film Group currently operates 41 theatres with 336 screens across China. The company delisted from the NASDAQ last year and completed a private funding round that included Alibaba Pictures, Fosun International, SAIF Partners, Sequoia and other partners.