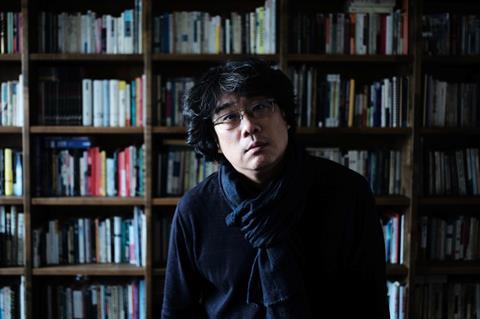 At the Busan International Film Festival (BIFF), Oscar-winning Parasite director Bong Joon Ho held a special talk with Ryusuke Hamaguchi after the screenings of the Japanese director's two latest films – Berlinale Silver Bear winner Wheel Of Fortune And Fantasy and Cannes best screenplay winner Drive My Car – in Gala Presentations today (October 7).
As described by programme director Nam Dong-chul at the event, the "lucky 200 audience members" who succeeded in the heightened competition to book tickets to the socially-distanced talk were treated to two mutually-admiring directors who are friendly with each other, sharing personal stories about their filmmaking and influences.
Referring to the many scenes in automobiles in Hamaguchi's films such as Drive My Car, Bong asked which method he preferred for shooting car scenes and where the director stayed during the process.
"I go in the car trunk so I can be near the actors," he responded. "I can't fit in there with my size," quipped Bong.
He went on to inquire into why Hamaguchi seems to favour so many scenes shot in cars and buses, remembering that his own father was not a man of many words with his family but that whenever they were driving together, eyes facing forward, the conversation seemed to flow.
"I tend to write scripts that are very dialogue-heavy and don't have a lot of action. So it seemed to me to be better to have them in moving vehicles rather than sitting in cafes and so I ended up with a lot of car scenes. But there are also a lot of things that you end up saying while in cars that you might not elsewhere," he agreed.
Having studied under Kiyoshi Kurosawa at film school and co-written his Venice-awarded Wife Of A Spy, Hamaguchi noted his mentor preferred shooting car scenes in front of screens, which prompted Bong to say, "We both look up to Kiyoshi Kurosawa so much that if there were a fan club, we'd have to fight to be the president of it."
He added that when he was working on Memories Of Murder, for a lack of serial killers to actually have contact with, he watched Kurosawa's 1997 thriller Cure and was inspired by the villain in it.
Hamaguchi said, "Kurosawa Kiyoshi is my teacher and I don't think I can't imitate him, but Eric Rohmer is someone I'd like to emulate."
Asked about how he cast the actors in Drive My Car and Wheel Of Fantasy And Fortune, Hamaguchi said, "I don't really make actors act in an audition. I chat with them for about an hour. I want to work with people who are interesting when they are talking and who speak their hearts and minds. I think it's more important that they are showing me their real selves than whether they can act well or not."
Bong agreed, noting the successful ensemble in Hamaguchi's Happy Hour with non-professional actors.
"I don't like giving actors a photocopied page of a script and telling them to try it out under fluorescent lights. It's awkward. I talk to them for 30 minutes to an hour in the office while sharing coffee, and I can see their acting in other films or in plays. That's how I cast Park Myung-ho, the man in the basement in Parasite. I saw him in a Korean independent film that I liked," he said.
They both agreed rehearsal and repetition helped preparing actors to be more at liberty on set, which Hamaguchi said was his way of dealing with anxiety.
Talking about their anxieties as directors, Bong said, "I worry about whether people will want or need to hear things and I don't trust myself. It could be a weakness or a strength. But at a certain point, I feel 'this film is now bigger than my head or my body' and at that point, I start to feel more at ease."
Ending the talk, Hamaguchi expressed his initial concern that it wouldn't be interesting after all his recent travels – from San Sebastian via New York to Busan – and jetlag.
"But I feel like I'm being directed by Bong Joon Ho here today, like he's looking at me and telling me in the grander scheme of things that 'you're doing alright but you can do even better' and he's pulling for me. I think I could act very well with a director like this," he said.