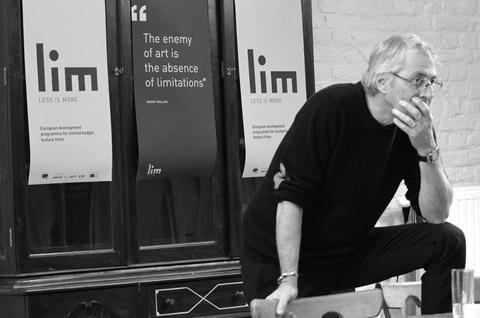 Sixteen projects have been selected for the second Less Is More (LIM) development programme backed by Creative Europe.
The scheme is open to writer-directors developing their first, second or third features, and also encourages submissions from theatre, documentary and the wider visual arts world.
Brittany-based Le Groupe Ouest, a partner of the TorinoFilmLab and co-founder of the Cross Channel Film Lab, runs the initiative.
All 16 projects are at script stage and heralding from countries such as the UK, Romania, Greece and Poland.
Each project team will be paired with a story editor who will help them integrate creative ideas within the budget.
The programme includes three one-week residential workshops, the first of which will take place in Brittany (March 7-14), the second in Romania (initially at Cluj-Napoca from May 30–June 3, where the projects will be presented to an audience of film professionals, and then in Transilvania from June 3-10) and the third in Lusławice, Poland from October 8-15.
Participants include Andy Herzoh, whose 2015 feature Wintergast premiered at Locarno; Lina Luzyte, whose Together For Ever played Thessaloniki and Karlovy Vary; Octav Chelaru, whose shorts have played at Locarno and Les Arcs; and Mark Towers, whose short The Alpha Invention played at UK horror festival FrightFest in 2015.
LIM is led by Le Groupe Ouest in partnership with Control N (Romania), Vlaams Audiovisueel Fonds (Belgium), the Krakow Festival Office (Poland) and the Transilvania International Film Festival (Romania). It is supported by Creative Europe's MEDIA programme.
Full list of participants and projects:
Shirley Bruno (Haïti) Just Come / Been To
Panagiotis Charamis (Greece) Avanos
Octav Chelaru (Romania) Balaur
Alina Grigore (Romania) The Bears And The Bees
Andy Herzog (Switzerland) Blackpool
Arun Deo Joshi (Nepal) Hori
Stéfan Le Lay & Blandine Jet (France) Survie (Survival)
Miguel López Beraza and Nayeem Mahbub (Spain / Bangladesh) Creatures
Lina Luzyte (Lithuania) So Much Water So Close To Home
Sameh Morsy (Egypt) Aya
Amanda Nell Eu (Malaysia) Tiger Stripes
Giulio Rizzo (Italy) 13-Bis
Vera Sjunnesson (Sweden) Bathtub
Mark Towers (UK) The Gael
Volkan ÜCe (Belgium) The Song Breaker
Daria Woszek and Aleksandra Świerk (Poland) Mary-Go-Round