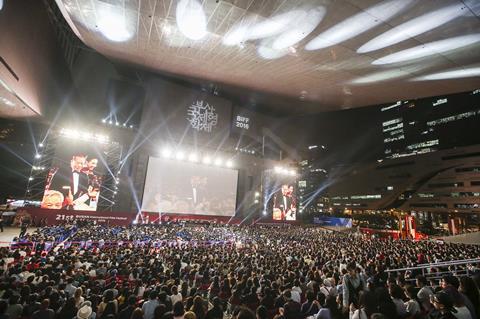 In South Korea, the 26th Busan International Film Festival (BFF) opened tonight with a star-studded red carpet and veteran Korean director Im Kwon-taek receiving the Asian Filmmaker of the Year award.
Song Joong Ki, perhaps best known for his starring role in Netflix series Vincenzo, and Park So Dam, known for hers as 'Jessica' in Parasite, hosted the ceremony. They announced that director Bong Joon Ho was on hand to present Im with the Asian Filmmaker of the Year award "on behalf of all his juniors in the film industry".
Im debuted as a director in 1962 with Farewell Duman River and made his 102nd film, Revivre, in 2014, winning Cannes best director in 2002 with Chihwaseon and an Honorary Golden Bear at the Berlinale in 2005.
The VIP audience tonight gave Im a standing ovation and spontaneously remained standing respectfully the entire time he was on stage – accepting the award and flowers, calling his longtime spouse and former actress Chae Ryeong up to join him, giving a short acceptance speech and making his way back down to rejoin the audience.
Speaking to Screen ahead of the ceremony, Im said the film he remembers the most of his is Seopyeonje, based on pansori – traditional Korean narrative opera that became an unexpected hit. "It is a tremendous joy to be able to make the kind of films that you can share with people after seeing and feeling and being moved by something as you live life and decide to put it into a film. Filmmaking is tough and might not make a lot of money, but work where you are able to go crazy doing what you love is such good work," he said.
BIFF also presented the Korean Cinema Award to producer Lee Choon-yun, who passed away earlier this year, for his contributions to Korean films.
Director Im Sang-soo was on hand to present opening film Heaven: To The Land Of Happiness with his main cast onstage including Choi Min-sik and Park Hae-il.
Choi told the audience, "I missed you. It's my utmost pleasure and honor to present this film as the opening of BIFF."
Other guests on the red carpet and in attendance included actor Shogen from Gensan Punch, nominated for the Jiseok Award; Yu Ah-in from Yeon Sang-ho's Hellbound in the On Screen section; actress Yeh Ji-won with her director Denis Dercourt of Vanishing in the World Cinema section; Cannes deputy general delegate Christian Jeune; and director Hamaguchi Ryusuke with Gala Presentation film Drive My Car cast members including Yurim Park and Daeyeon Jin.