EXCLUSIVE: Showbox/Mediaplex also seal deals on period action comedy The Huntresses.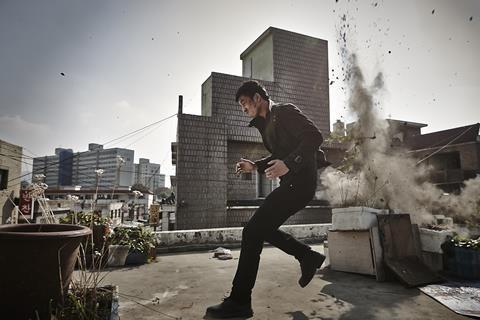 South Korea's Showbox/Mediaplex has sealed a raft of deals on Won Shin-yun's action thriller The Suspect [pictured], which has its market premiere screening here in Berlin today, and period action comedy The Huntresses.
Starring Gong Yoo from Silenced, The Suspect has sold to German-speaking Europe (Splendid Film), Japan (Twin), Hong Kong (Deltamac HK), Taiwan (AV-Jet) as well as India and the Middle East (Krisco Media). WellGo USA previously acquired the film for North America.
About a North Korean spy cut loose, on the run and trying to solve two different murder mysteries, The Suspect clocked up around $28m at the South Korean box office after its Dec 24 release.
Starring Ha Ji-won from Haeundae, The Huntresses sold to Japan (Twin), Taiwan (AV-Jet), Indonesia (PT Prima), Vietnam (Soundspace International), India and the Middle East (Krisco Media) and Mongolia (Taewang).
Featuring three female bounty hunters, the costume piece opened at No. 5 at Korea's Lunar New Year holiday box office and has since clocked up about $3m.
Showbox at EFM is also selling corrupt-cop-war action thriller A Hard Day starring Lee Sun-kyun and Cho Jin-woong, Quick director Jo Bum-gu's underground gambling action thriller The Divine Move, starring Jung Woo-sung and Ahn Sung-ki, and Nameless Gangster: Rules Of The Time director Yoon Jong-bin's Kundo: Age Of The Rampant, starring Ha Jung-woo and Gang Dong-won.