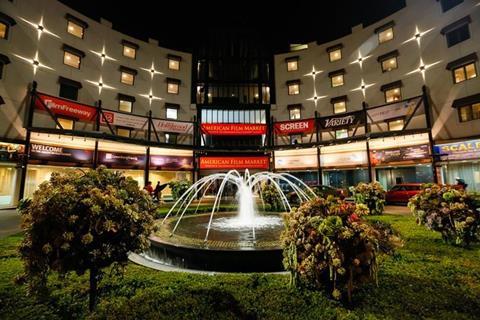 Buyers increasingly need to juggle the right content that suits theatrical and digital platforms in a fast-changing landscape, a panel heard at yesterday's AFM Global Perspective Conference.
Paramount evp of worldwide acquisitions Syrinthia Studer highlighted her AFM 2017 pick-up Book Club, which grossed close to $70m in early summer, as an example of something that worked well theatrically, while acknowledging that OTT platforms allow filmmakers broader exposure.
"But at the end of the day with regard to the proliferation of platforms, there's as aspect to all of this growth that allows independent filmmakers to get their film exposed to a broader audience. It's good for filmmakers and it's good for content, and the marketplace is big enough for everyone to thrive."
Studer added, "Although my focus and role is acquiring films that are complementary to our theatrical slate, we also engage in acquiring content for a multi-platform approach."
"We work a lot with OTT platforms," said Sasha Buhler, head of acquisitions at Germany's Constantin Film. "Each project we look at and decide the best way to release it and often a theatrical release doesn't work for us… We have the windowing that will change in the next couple of years… but until then we have a lot more opportunities in terms of releasing and in terms of formats we buy and how we market them."
Referring to theatrical releases Buhler noted the strength of comedy as a communal experience, and added that horror had begun to show encouraging signs at the box office.
Victor Hadida, president of French indie giant Metropolitan Filmexport, said: "We have seen a turning point this year with all of the platforms. [MPAA chief] Charles Rivkin said global box office was $41bn worldwide [in 2017].
"France represents maybe 3% of that. Before it was nearly double, so the global market is expanding at the expense of some movies. What is important – 50% of our market is local production."
The panelists agreed the mood at this year's AFM was more upbeat than the 2017 event.
"When you come to a marketplace like this and you see the amount of packages that are available at varying scales of production budgets it's good because it [indicates] a healthy marketplace," said Studer.