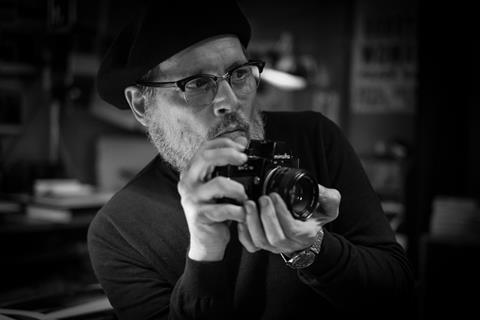 Poland's EnergaCamerimage Film Festival has revealed the main competition lineup for its 28th edition, which is set to go ahead as a mix of physical and online events.
Scroll down for full list of titles
A total of 12 films will compete for the festival's Golden Frog, which will take place in Torun, Poland from November 13 to 21.
They include Chloé Zhao's Nomadland, Francis Lee's Ammonite and Woody Allen's Rifkin's Festival.
The festival, which focuses on the art of cinematography, also announced that Andrew Levitas' war photographer drama Minamata will close this year's event and its star Johnny Depp will virtually receive the Camerimage Award to an Actor with Unique Visual Sensitivity.
As previously announced, Falling will open the festival with director and star Viggo Mortensen in attendance alongside the film's cinematographer, Marcel Zyskind.
In addition, the festival's lifetime achievement honour will be awarded to Philippe Rousselot, the French cinematographer behind Interview With The Vampire, Dangerous Liaisons and the Fantastic Beasts films, who won the Oscar for Robert Redford's A River Runs Through It.
Physical screenings will take place, in accordance with Covid-19 regulations, while virtual elements will include Q&As, conferences, seminars and a selection of the programme.
Camerimage 2020 main competition titles
Ammonite
Dir. Francis Lee / Cinematographer: Stéphane Fontaine
The Banker
Dir. George Nolfi / Cinematographer: Charlotte Bruus Christensen
Caged Birds
Dir. Oliver Rihs / Cinematographer: Felix Von Muralt
Charlatan
Dir. Agnieszka Holland / Cinematographer: Martin Štrba
Falling
Dir. Viggo Mortensen / Cinematographer: Marcel Zyskind
The Glorias
Dir. Julie Taymor / Cinematographer: Rodrigo Prieto
Helene
Dir. Antti J. Jokinen / Cinematographer: Rauno Ronkainen
Never Gonna Snow Again
Dir. Małgorzata Szumowska / Cinematographer: Michał Englert
Nomadland
Dir. Chloé Zhao / Cinematographer: Joshua James Richards
Pinocchio
Dir. Matteo Garrone / Cinematographer: Nicolaj Brüel
Rifkin's Festival
Dir. Woody Allen / Cinematographer: Vittorio Storaro
While At War
Dir. Alejandro Amenábar / Cinematographer: Álex Catalán