Eurimages's Roberto Olla revealed the news during a TIFF panel.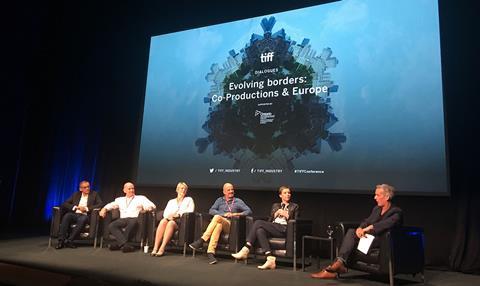 Canada is expected to become the first country outside of the European continent to join the Eurimages Fund (the Council of Europe's Cinema Support Fund).
The announcement was made by Eurimages executive director Roberto Olla during the Toronto International Film Festival industry panel Evolving Borders: Co-Productions & Europe at the Toronto Film Festival.
Following a lengthy discussion process, the application was made in Berlin earlier this year, and is now in its final phase. Member states of the fund must next unanimously accept the decision by the end of this year.
Canada would be the 38th country to join the European Cinema Support Fund, which would allow them to act as lead producer as opposed to third party producers.
As lead producer, the country would have more reciprocal opportunities, including European productions shooting in Canada and Canadian stories extending outward to Europe.
"27 years ago [before Eurimages was created], countries had a very domestic focus," said Olla.
"We wanted to change this, to give film-makers the ability to work with people in other countries. And it's working. We now have 50-60 productions per year."
Icelandic Film Centre's director Laufey Guojonsdottir and Irish Film Board's chief executive James Hickey both discussed the importance of co-productions from a "tiny island" perspective.
Guojonsdottir reiterated the increased opportunities for their talented pool of film-makers, while on the flipside, the chance for other countries to film in the country's unique landscape.
Hickey also gave credence to the added weight of co-productions, referencing last year's award winners Brooklyn and Room, and now this year, which sees six Irish co-productions in Toronto including The Secret Scripture starring Rooney Mara and Jack Reynor that was co-produced with the US.
Pandora Film's Claudia Steffen said "making films that would travel the world and be seen by a tiny audience in a lot of countries" was equally as important as making films for the box-office.
"Our film Nocturama [that premiered in Toronto's Platform section], was important for us to make. It talks about an important subject matter [terrorism in France], but that also made it complicated to fund," said Steffen who is the German-based production company's producer and managing director.
"We relied on a series of production partners across Belgium, France and Germany to secure its funding."
Producer Ilann Girard's online company Olffi Film Financing was discussed as providing an immeasurable tool in listing the available film funds in a simplistic format for producers like Steffen.
"We describe how funds work, when you have to apply and where they are available," said Girard.
"It's also important for producers to know what governments are pushing – this then helps film-makers know which funds are changing or which funds are under-subscribed."