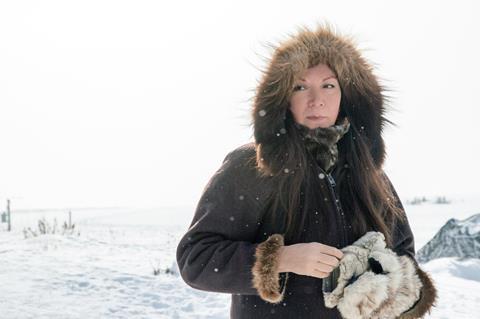 Producers Marie Clements, Lael McCall, Michelle Morris, and the Women In the Director's Chair (WIDC) organisers have commenced production in Canada on Clements' drama Red Snow.
Shooting is underway in Yellowknife, Northwest Territories, and is scheduled to relocate to Kamloops, Whistler and Cache Creek in British Columbia to complete principal photography by May 31.
Clements (pictured) wrote, directs and is the majority producer via her MCM Inc of Red Snow, about a First Nations Giwch'in soldier from the Canadian Arctic whose passion for his roots comes to the fore after he is captured and interrogated by the Taliban in Kandahar, Afghanistan. The prisoner escapes with a Pashtun family across treacherous landscapes and a blizzard.
Red Snow will be shot in Gwich'in, Inuvialuktun, Pashto, and English and stars Asivak Koostachin stars alongside Kane Mahon, Tantoo Cardinal, Michelle Thrush, Steven Cree Molison, and Afghan singer and British Columbia resident Mozdah Jamalzadah.
Also producing are McCall of Principia Productions, Morris of Lily Pictures, and the WIDC. Carol Whiteman serves as executive producer.
"There's a misconception that Indigenous stories are unto themselves, that they are somehow separate from what we think as the Canadian experience when in fact this is the core of who we are, and who we have become," Clements said. "There are so many barriers you literally forget that you are breaking them."
Red Snow has received financial support from the CBC Breaking Barriers Film Fund, Telefilm Canada, The Harold Greenberg Fund, APTN, Creative B.C., the Northwest Territories Film Rebate programme, and is a recipient of Canada Media Fund's Aboriginal Convergent funding which will support in part the production of an online Book Of Snow for website browsers to record words for snow in their languages around the world.
"We're thrilled to be working with Marie Clements and her producing partners Lael McCall and Michelle Morris on Red Snow," Mehernaz Lentin, senior director of the CBC Breaking Barriers Film Fund, said.
"I was immediately drawn to this story that takes us on a journey from the Canadian Arctic to Khandahar. I love that the Far North meets the Middle East, revealing the interconnectedness of these two global realities and tribal cultures, told from the POV of a First Nations soldier caught in a Taliban ambush. Marie has woven distinct characters that reveal the mythology of ancient cultures and the struggle for survival within their disparate landscapes."
The WIDC Feature Film Award has backed Clements with a prize worth nearly $200,000 in in-kind services and rentals from some of Canada's leading film industry companies, including Panavision Canada, William F. White International Inc., North Shore Studios, as well as executive producing services provided by Whiteman.