The Cannes L'Œil d'or (Golden Eye) documentary award has been presented to Stefano Savona's Samouni Road.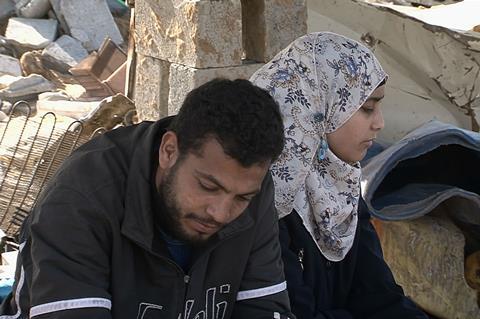 The $5,900 (€5,000) priz is presented by LaScam (the French-speaking authors' society) and its president, Julie Bertuccelli, in collaboration with the Cannes Film Festival, with the support of INA (French National Audiovisual Institute) and, new for this year, Audiens.
The jury – headed by director Emmanuel Finkiel – praised the Directors' Fortnight entry for its "intelligent way of filming, the right distance in its point of view, its sensitive outlook, the brilliant and subtle use of animation to strengthen the storytelling".
The French-Italian co-production mixes live action with animation, and tells the story of the Zeitoun Incident of 2009, when 48 Palestinian civilians were killed.
The jury also awarded special mentions to Mark Cousins' The Eyes Of Orson Welles and Michel Tosca's Libre.
There had been 17 documentaries competing, ranging from Wang Bing's Dead Souls and Jean-Luc Godard's The Image Book to Kevin Macdonald's Whitney and Wim Wenders' Pope Francis: A Man Of His Word.
This year's jury was comprised of Finkiel, Lolita Chamah, Kim Longinotto, Isabelle Danel and Paul Sturtz.
The winners of the past three years were Agnes Varda & JR's Faces Places, Cinema Novo by Eryk Rocha, and Allende, Mi Abuelo Allende by Marcia Tambutti Allende.
Doc Day examines the changing industry
The award ceremony capped a busy Cannes for documentary activity, including Cannes Marche's Doc Corner and its third-annual Doc Day on May 15. The day-long event kicked off with the star power of an opening keynote from European Space Agency astronaut Thomas Pesquet, who chronicled his life and work on the international space station for Pierre-Emmanuel Le Goff's feature documentary 16 Sunrises (which screened to close Doc Day).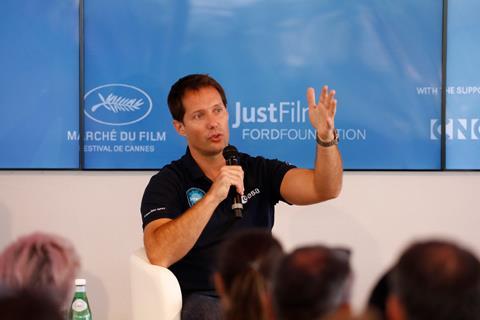 Pesquet, who created quite a buzz at the opening of Doc Day, said he had to fit in filming himself (or with space station colleagues) before or after busy shifts of scientific work. "I wanted somebody to tell the story of the mission. I didn't want to be a movie star, but I think it's important to tell the story of what we are doing in space, it's a great adventure… I don't think people should take it for granted, I wanted to have somebody show what the agency does and why it's important for people on earth and how difficult it is to send people to space and do research and exploration."
On a panel about the changes facing the documentary world in the next five years, experts Orwa Nyrabia of IDFA, Fabrice Puchault of ARTE, Tom Quinn of NEON, and Diane Weyermann, president of Participant Media, spoke about how the same conditions threatening the status quo in the documentary world – the rise of platforms, shifts in funding, political polarisation – can also represent new opportunities.
Quinn spoke about how there are still big theatrical documentary successes – he pointed to Magnolia's I Am Not Your Negro release in 2017 and last week's lucrative launch of RBG – and the big deals for docs on Netflix, but that there are a whole wealth of other films that might be winning festivals but not connecting with wider audiences; he hopes to foster ways to get those seen more.
All the panelists also spoke about the need to protect singular, unique filmmaking voices and not to let filmmaking get too homogenised in the global marketplace, and to fight for more diverse filmmaking voices as well as gender equality in the documentary world.
Filmmaker and producer Andre Singer (Night Will Fall) also spoke about the shift in financing and distribution. Singer noted the "decline of interest from broadcasters" and how working with one big funder (say, Netflix) – rather than 20 disparate financiers – to do a global launch has both benefits and drawback. "Who are you addressing with with those films? It's not the idiosyncratic local markets, it's now the global market. How do you shrink the perception of your story that appeals as much to China as to South America or Europe? That's creatively exciting on the one hand but extremely limited on the other."
The panel discussion was inspired by the European Documentary Network's Media & Society initiative, which was introduced at Doc Day by EDN director Paul Pauwels. The initiative seeks to gather more surveys from documentary industry experts (see the website here).
Doc Day also continued with afternoon sessions with filmmakers Marie Losier, Stefano Savona and Anja Kofmell; and a talk by co-writer/executive producer Joan Simon about the pioneering female filmmaker Alice Guy-Blaché , the subject of Cannes Classics documentary Be Natural: The Untold Story Of Alice Guy-Blaché.