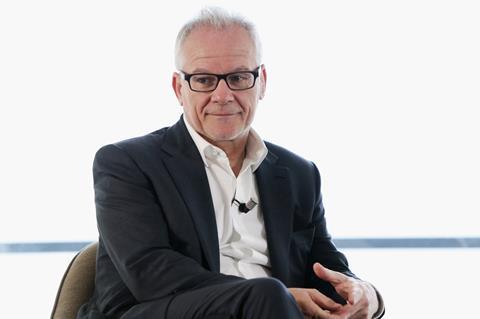 Cannes Film Festival delegate general Thierry Frémaux is hitting the Arab film festival circuit in December with trips to the Cairo International Film Festival (CIFF) and the inaugural edition of Saudi Arabia's Red Sea International Film Festival (RSIFF).
It will be Frémaux's first trip to either Egypt or Saudi Arabia. He was last in the Middle East in an official capacity in 2016 when he attended the Dubai International Film Festival with Lumière! The Adventure Of Cinema Begins.
Frémaux is due to touch down first at CIFF (November 26 - December 5) where he will be feted with a special tribute award for his contribution to spreading the reach of arthouse and world cinema and will then travel onto the inaugural edition of the RSIFF (December 6 - 15).
"He has had more influence than anyone in driving arthouse and world cinema to the forefront of the discussion. Who would have thought five years ago that a Korean movie could win the best picture Oscar," said CIFF director Mohamed Hefzy, in reference to Palme d'Or winner Parasite.
Cannes has supported independent Egyptian cinema in recent years with selections such as Mohamed Diab's post-revolution drama Clash, which opened Un Certain Regard in 2016, A.B. Shawky's road movie Yomeddine, which debuted in competition in 2018, and Sameh Alaa's I Am Afraid To Forget Your Face, which won the Palme d'Or for best short film in 2020.
"Cannes's vocation is to support world cinema. It hasn't historically always done justice to the importance of Egyptian cinema in the Arab world, however, we've begun showing some of the most popular films, as we did for Bollywood, and we're also looking at whether a handful of titles could be restored and integrated into the Cannes Classics section," said Frémaux. "But Cannes is proud to have welcomed great artists like Yousry Nasrallah and Youssef Chahine… while the new generation of young Egyptian filmmakers, women and men, is exciting and I'm sure we can expect a lot in the future."
At the Red Sea, Frémaux will participate in a tribute to iconic French actor Jean-Paul Belmondo with a montage of his best-known performances, produced by the Lumière Institute.
The homage to Belmondo, who died at the age 88-years-old in September, is part of the Red Sea's Treasures sidebar devoted to classic cinema. It will also screen a restored copy of Jean-Luc Godard's 1965 classic Pierrot le Fou starring Belmondo opposite Anna Karina.
In addition, Frémaux will also present his 2016 Lumière documentary – consisting of a compilation of restored films made by cinema pioneers Auguste and Louis Lumière between 1895 and 1905 – with a live commentary.