The film clocked up $96.6m over its three-day opening weekend, 56% of the week's total box office.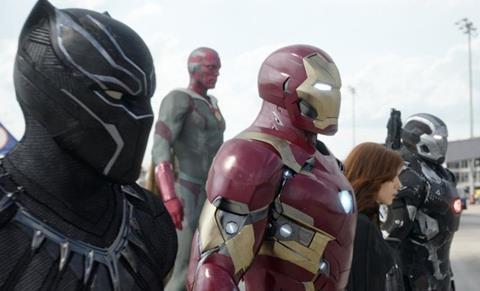 Captain America: Civil War soared to the top of the Chinese weekly chart for the period of May 2-8. Its three-day opening weekend reached a staggering $96.6m, accounting for about 56% of last week's total box office.
The Marvel/Disney superhero sequel, released simultaneously with the US, debuted with $30.44m on Friday, making it the fourth biggest opening day among Hollywood titles in China. It shot up by 25.5% to $38.21m on its second day, making it the second biggest single day for a Hollywood film.
Civil War has already surpassed the entire run of Batman vs Superman: Dawn Of Justice and is expected to soon overtake its 2014 predecessor Captain America: The Winter Soldier's gross of $115.62m.
Edko Films' romantic comedy sequel Finding Mr Right: Book Of Love was relegated to second place with $43.58m for $98.46m after 10 days.
In its fourth week, The Jungle Book held up well in third place with $16.15m. Currently Disney's third highest grossing release ever in China, it has amassed $148.37m after 24 days.
It was followed by five Chinese holdovers: Phantom Of The Theater on $4.71m for $12.80m after 10 days; MBA Partners on $3.87m for $11.94m after 10 days; Xuan Zang on $1.96m for $4.78m after ten days; Yesterday Once More on $1.88m for $27.46m after 17 days; and local animation Adventure Of Frog on $0.55m for $1.29m after nine days.
Rounding out the weekly top 10 were The Huntsman: Winter's War with $0.53m for $16.36m and Buddy Cops with $0.42m for $4.54m, both from 17 days.
After a slow April, the Chinese ticket sales have regained its momentum in May thanks largely to Finding Mr Right: Book Of Love and Captain America: Civil War. Last week's box office saw an increase of 32.5% from the week before.
Without strong competition, Captain America: Civil War is likely to remain dominant this week. Upcoming releases include Tarsem Singh's Self/less (May 12) as well as Ariel Vromen's Criminal and Singapore-China-Thailand omnibus Distance (May 13).