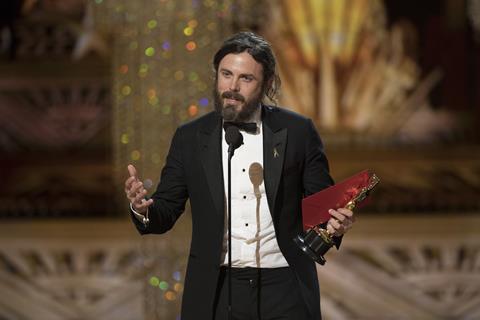 Oscar winner Casey Affleck said on Thursday (January 25) he was stepping away from this year's 90th Academy Awards, where he was scheduled to present the prize for best lead actress.
It is understood Affleck did not want to be a distraction to the ceremony as the #MeToo and Time's Up movements highlighting sexual impropriety by men in Hollywood towards women gather pace.
"We appreciate the decision to keep the focus on the show and on the great work of this year," an Academy spokesperson told Screen.
Affleck, who won the best lead male Oscar a year ago for Manchester By The Sea, settled cases with two women after they alleged he sexually harassed them while they worked on the 2010 documentary I'm Still Here. Affleck denied the allegations.
It is a frequent Academy Awards tradition that the previous year's best lead actor winner presents the best lead actress award the following year.
Affleck was previously nominated for a supporting actor Oscar in 2008 for The Assassination Of Jesse James By The Coward Robert Ford.