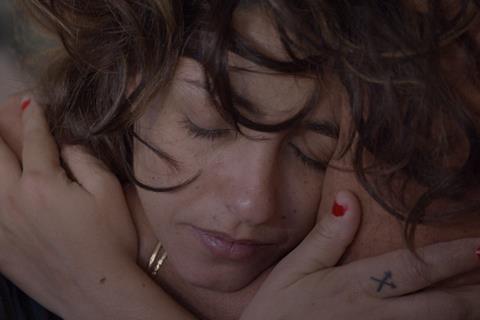 Paris-based sales company Celluloid Dreams has taken world rights sales to The Love Trilogy by Israeli director Yaron Shani.
It is Shani's solo debut feature, after Ajami, which he co-directed with Scandar Copti. That film was Oscar-nominated in the Best Foreign Film category and also won a Caméra d'Or special mention at Cannes Film Festival in 2009.
The first film Stripped is currently ending post-production. Screen is able to reveal an exclusive first look image, above.
Saar Yogev and Naomi Levari for Israel's Black Sheep Film Productions are lead producers with Michael Reuter at Germany's The Post Republic on board as a co-producer. It is supported by Israel Film Fund, YES and ZDF Das Kleine Fernsehspiel / Arte.
The Love Trilogy revolves an unusual concept blurring the lines between fiction and documentary, in which the actors, mostly non-professional, were asked to live the lives of their fictional characters for a shooting period of over a year.
The script trimmed to the bones of the main plot was constantly enriched by the actors' personal experience.
"This methodology makes the experience of watching the trilogy extremely unique and profound," said Celluloid Dreams founder and president Hengameh Panahi.
"The darkest moments surprisingly shine because the viewer is literally placed within each character, understands them without any judgement and feels for them. What is impressive and so hard to achieve in movies is the honesty of a true connection between the director and his actors and in turn between the characters and the viewers."
Director Yaron Shani says: "I work with the soul. I construct the conditions in which true emotions can blossom. It's not about textures and performance. It's about being."
Each film is complete in itself, while the combination provides a wide-scope picture of the characters' intersecting lives from different angles and in different times. All three films explore the gender violence.
"The Love Trilogy challenged us in each and every aspect of filmmaking. But this is not merely a convention breaker, this pointed a spotlight to the invisible cage bars that we are all trapped in – may it be the characters on screen, the people behind the camera or the audience - we all have to recognize that we are living in a cage if we have the pretention to shake it and that is what lays in the very core of our project," said producer Yogev.
Stripped revolves around the tale of Alice and Ziv. Thirtysomething Alice is a shining star in the literary world until the day she is mysteriously abused. Her trauma will help her to discover her inner self and open up to true connections with others. Teenage Ziv is her sensitive musician neighbour. He has to give up on his dreams, learn to become indifferent, enter the army and the world of manhood where power and control matter. Their opposing journeys will strip away what used to define them.
The next two films in the trilogy are Chained and Reborn.
Celluloid Dreams is introducing the films to international buyers at Cannes ahead of an autumn festival launch. Other titles on Celluloid's slate include Jafar Panahi's Palme d'Or contender 3 Faces, School's Out by Sébastien Marnier starring Elle's Laurent Lafitte and documentary Why Are We Creative? by Hermann Vaske.