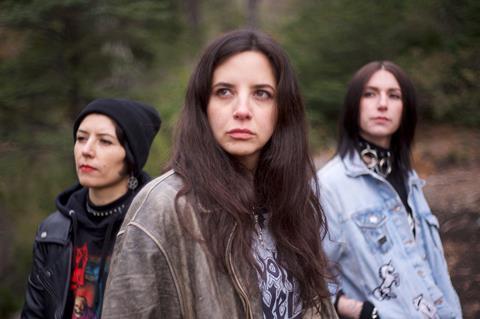 Welcome Villain Films has acquired worldwide rights to Invoking Yell, the latest horror feature from Chilean filmmaker Patricio Valladares.
The new Los Angeles-based genre company will distribute the film, its first Spanish-language acquisition, in the US and handle international sales.
Directed by Valladares (known for genre releases including 2012's Hidden In The Woods), the film was written by Valladares and Barry Keating and produced by Diego Moral Heimpell for Moral Brothers Entertainment and Vittorio Farfan (who also served as cinematographer).
Set in 1990s Chile, the film follows three twentysomething women – played by María Jesús Marcone, Macarena Carrere and Andrea Ozuljevich - who venture into the woods to shoot a demo tape for their black metal band and record paranormal phenomena.
Invoking Yell has screened at genre festivals including the Unnamed Footage Festival and PanicFest and will get its Latin America premiere at Sanfic19 in Chile.
Valladares commented: "This film was always meant to be an ode to the found footage films of the 90's, but with a black metal twist. I'm a big fan of The Blair Witch Project and many other found footage films from that era, and I am also a metalhead, so the subject matter came easy to me. It is incredibly exciting to be teaming up with the amazing group at Welcome Villain to release this special film to the world. We couldn't be happier with this partnership."
Welcome Villain head of development Luke LaBeau added: "We are massive fans of the found footage subgenre and what Patricio and team created is a genuinely unnerving nightmare that stuck with us long after the credits rolled. This is the type of exciting creative vision that not only breathes new life into the subgenre but also proves there are still plenty of terrifying stories to be told in the found footage style."
The company's head of creative Eric Kleifield added: "Invoking Yell brought back that feeling of seeing films like The Blair Witch Project for the first time - the mystery, the unpredictable plot twists, and the overall raw, gritty aesthetic really make this film effective and creepy in surprising new ways, and we are exceedingly proud to be releasing the film under the Welcome Villain label."