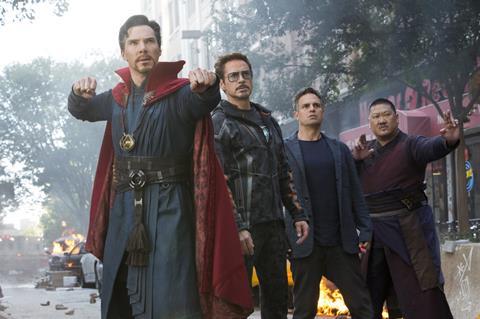 Avengers: Infinity War stayed top at the Chinese box office in the period of May 14-20, sending more records tumbling. The third installment of the popular franchise added $108.3m for $320.2m after 10 days, cementing it as the top grossing film for both Disney and the Marvel Cinematic Universe in China.
It has also emerged as the top foreign film in 2018, surpassing Ready Player One; the fourth highest grossing foreign film ever, after Furious 8, Furious 7 and Transformers 4; and the 12th highest grossing film ever, surpassing 2017 Chinese New Year blockbuster Kung Fu Yoga.
How Long Will I Love U opened solidly with $39.1m from its three-day opening weekend. Produced by Lost In Hong Kong's Xu Zheng, the local love comedy fantasy is about a man and woman living in the same apartment twenty years apart who cross paths when their timelines merge. The feature debut of Su Lun stars Tong Liya and Lei Jiaying.
A Quiet Place with Emily Blunt came in third with an impressive $18.7m from its three-day opening weekend, given that imported horror thrillers are a rarity in China. Its $5.38m takings on Friday made it the best opening day for such films.
Actress-turned-director Rene Liu's bittersweet romance Us And Them added $4.4m for $224.2m after 23 days, while local comedy I Am Your Mom, starring Yan Ni and her real-life daughter Zhou Yuanqing, took $1.6m for $5.8m after 10 days and Japanese drama Hirugao: Love Affairs In The Afternoon opened in sixth with $1.3m from its first three days.
The rest are holdovers: Xu Zheng's thriller A Or B on $1.1m for $59.4m after 23 days; biopic The Young Karl Marx on $0.9m for $1.3m after 16 days; Dwayne "The Rock" Johnson's Rampage on $0.8m for $164m; and Indian hit Baahubali 2: The Conclusion on $0.6m for $12.4m after 17 days.
The Chinese box office will be taken over by Solo: A Star Wars Story when it rolls out on May 25.