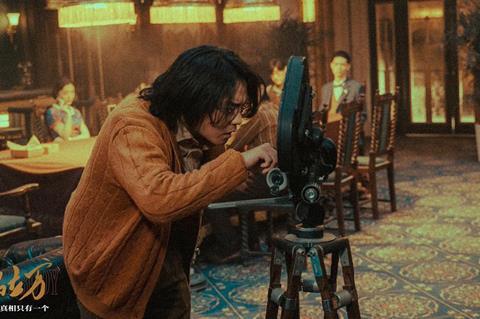 Local comedy thriller Be Somebody, produced by Maoyan Pictures, held on to the top spot at the box office over its second weekend (November 19-21), according to figures from Artisan Gateway, grossing a futher $23.9m for a cumulative total of $60.3m.
Directed by Liu Xunzi Mo, the film revolves around a group of filmmakers trapped in a mansion where they are attempting to make a crime drama for a wealthy investor. The ensemble cast includes Yin Zheng, Deng Jiajia, Yu Entai and Yang Haoyu.
Horror film The Door Lock, about a woman living alone who is threatened by an intruder, opened in second place with $20.2m. A Chinese-language remake of a Korean production of the same name, the film is produced by Hengye Pictures and stars Bai Baihe, Bai Ke and Fan Chengcheng.
Also opening on November 19, Huayi Brothers' historical action drama Railway Heroes, directed by Yang Feng (The Coldest City), came in third with $9.6m over its first weekend. Starring Zhang Hanyu (Operation Red Sea), Fan Wei (One Second) and pop singer/actor Vision Wei, the film is set during the Second World War when a group of Chinese railway workers banded together to destroy the supply lines of invading Japanese forces.
Patriotic blockbuster The Battle At Lake Changjin grossed a further $3.8m for fourth position in the weekend chart. With a cume of $888.1m since its release over China's National Day holidays, the film is on course to overtake 2017 release Wolf Warrior 2 to become the highest-grossing Chinese film of all time.
Hong Kong-China co-production Anita, a biopic of Canto-pop diva Anita Mui, came in fifth with $2.5m for a cume of $12.5m after 10 days. Directed by Longman Leung, the film also opened in Hong Kong on November 19, where it has already become the highest-grossing local film of the year with box office of $3.98m (HK$31m) in its first 10 days. It has also opened strongly in Malaysia with $132,000 over its opening four-day weekend.
Disney's Jungle Cruise, which opened fifth with $3.3m on November 12, dropped out of the top five in its second weekend and is forecast by Maoyan to gross a total of $6.48m (RMB41.4m) by the end of its run. The film is likely to have been affected by piracy, as it was released in the US and on Disney+ in July.
It is currently ranking seventh behind No Time To Die, which Maoyan predicts will end up with $63.77m (RMB407.4m), and ahead of Dune, expected to finish its run with $39.4m (RMB251.8m). No Time To Die and Dune were both recently given extensions to run for a second month in Chinese cinemas.