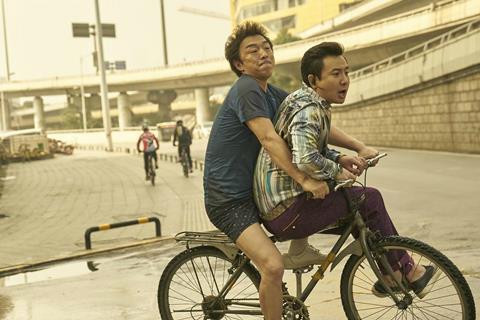 The Chinese New Year battle is set to officially begin tomorrow, but the ticket presales kicked off a couple of weeks ago, with eight major titles vying for a share of the most lucrative period of the year.
The presales for Feb 5, the first day of the week-long Chinese New Year holidays, have reached $84m (as of 5pm, Feb 4), almost half of the record-breaking total of the same period last year.
Tracking at No.1 was Crazy Alien on $23m, a comedy starring Huang Bo and Shen Teng about two brothers who hope to make a fortune from the unexpected arrival of an alien visitor. It is the third film in director Ning Hao's Crazy series and his first film for a Chinese New Year release.
In second place was Pegasus on $16.6m, which also stars Shen who plays a former race car champion turned fried rice stall manager hoping to return to car racing. It is the third film by writer-turned-director Han Han whose last film Duckweed was released during 2017 Chinese New Year.
The New King Of Comedy trailed closely behind with $16.49m. The follow-up to the 1999's original film is also directed by Stephen Chow whose last film The Mermaid was the box office champion of 2016 Chinese New Year. The new film stars Wang Baoqiang and E Jingwen.
The Wandering Earth came in fourth on $9.7m. It is billed China's first big budget sci-fi film, with Wu Jing playing an astronaut on a mission to save the world.
Two animations were neck-to-neck: Boonie Bears: Blast Into The Past, the six installment from the popular franchise, on $4.82m and Peppa Pig on $4.57m.
They were followed closely by The Knight Of Shadows: Between Yin And Yang, a period action fantasy starring Jackie Chan, on $4.56m and Hong Kong anti-corruption thriller Integrity, starring Lau Ching Wan and Nick Cheung, on $4.49m.
While new box office records are to be expected, the Chinese New Year box office has traditionally been volatile. The tentative rankings may change over the course of the next few days.