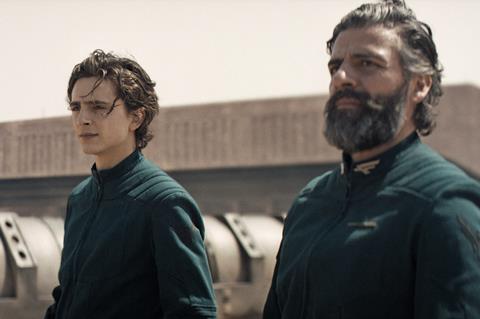 Warner Bros/Legendary's Dune failed to unseat patriotic blockbuster The Battle At Lake Changjin at the China box office this weekend (October 22-24), opening in second position with a gross of $21.9m in its first three days, according to figures from theatrical consultancy Artisan Gateway.
The Battle At Lake Changjin pulled in $32.3m over the same time frame, despite being on release for nearly one month, and has now reached a cumulative total of $828.1m (RMB5.3bn). That makes it the third-highest grossing film ever in China behind 2017 release Wolf Warrior 2 (RMB5.69bn) and melodrama Hi, Mom (RMB5.41bn), released earlier this year.
Dune is forecast to gross a total of $35.2m (RMB224.8m) at the China box office, according to online ticketing platform Maoyan, a slightly underwhelming result considering that it's the first major US studio release for several months.
While Chinese audiences generally embrace high-concept films and the sci-fi genre, it's likely that the film is too high-brow and slow-paced for the third and fourth tier cities that these days drive China's box office. It will also have its revenues affected by the opening of Universal's No Time To Die on October 29.
IMAX reported that Dune has grossed $5.1m from its screens in China, accounting for 23% of box office from only 1% of screens, which pushed the IMAX China network to its biggest ever October box office, with a week remaining in the month.
Meanwhile, patriotic omnibus My Country, My Parents, released at the same time as The Battle Of Lake Changjin, came in third over the weekend with $5.3m for a cume of $221.4m. It was followed by two films that also opened on October 22 – Maoyan Pictures' comedy Knock Knock, which grossed $4.2m for a cume of $6m including previews, and Ann Hui's Venice 2020 title Love After Love, which took $3.3m in its first three days.
Total box office for the weekend stood at $69.3m, according to Artisan Gateway, with cinemas in some smaller provinces closed by isolated Covid-19 outbreaks. Box office for the year has reached $6.54bn, which is down by 24.1% compared to the same point in 2019.