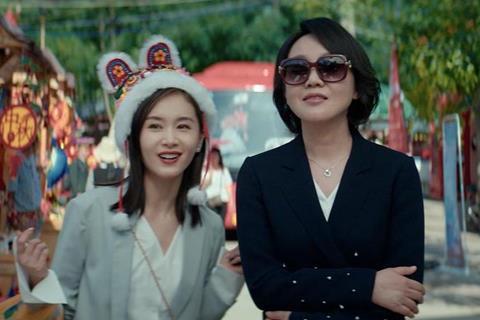 Patriotic omnibus My People, My Homeland added a further $19.1m at the China box office last weekend (October 16-18) to reach a cumulative total of $360.3m, according to figures from Artisan Gateway.
Compared to figures published by Box Office Mojo, that result would make the film the third biggest worldwide grosser this year, behind Chinese war epic The Eight Hundred ($441.7m) and Sony's Bad Boys For Life ($426.5m).
Wang Danyang's romantic drama The Story Of Xi Bao came in second over its opening weekend, grossing $5.6m over three days. Starring Guo Caijie and Zhang Guozhu, the film is based on novel about a boy from a poor family who is taken in by a wealthy family and falls in love with the daughter.
Animated feature Jiang Ziya: Legend Of Deification came in third over the weekend, grossing a further $5.6m for a cume of $226.9m, followed by local comedy Coffee Or Tea, which grossed $4.9m for a cume of $33m, and Peter Ho-sun Chan's Leap, with $4.8m for a cume of $113.1m.
Total box office over the three-day weekend was $46.4m, a decline of around 32% on the previous weekend, which came at the tail end of the National Day holidays (October 1-8).
China's total box office for the year stands at $1.99bn, down around 75.5% on the total grossed by this point last year, according to Artisan Gateway. China's cinemas were closed for six months due to the Covid-19 pandemic between January 23 and July 20.
This weekend sees the release of war epic Sacrifice (Jin Gang Chuang), which opens October 25 to mark the 70th anniversary of China's entry into the Korean War. Starring Wu Jing (Wolf Warrior 2) and Zhang Yi (The Eight Hundred), the film is co-directed by The Eight Hundred's Guan Hu, Frant Gwo, who directed 2019 blockbuster The Wandering Earth, and Brotherhood Of Blades' Lu Yang.
Meanwhile, China's release schedules for the rest of the year and into 2021 are starting to fall into place. Zhang Yimou's long-delayed One Second, which was pulled from Berlin Film Festival in 2019 due to censorship issues, has finally been scheduled for China release on November 27.
Films scheduled for release during the year-end peak box office season include fantasy thriller The Yin-Yang Master: Dream Of Eternity, the first part of Guo Jingming's two-parter based on Japanese novel Onmyoji, and Herman Yau's Shock Wave 2, starring Lau Ching-wan and Andy Lau.
The schedule for Chinese New Year 2021 so far includes Detective Chinatown 3 and The Rescue, which were both initially scheduled for Chinese New Year 2020 before cinemas closed; Light Chaser Animation's New Gods: Nezha Reborn, which like Jiang Ziya is based on Chinese myth The Investiture Of The Gods; and Lu Yang's fantasy thriller Assassin In Red.