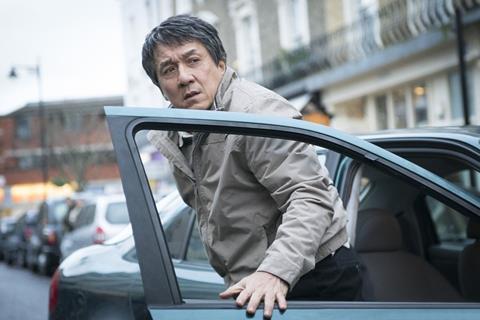 Although the week-long National Day holidays began officially on Oct 1 (Sunday), five top holiday films set off early fireworks at the Chinese box office over the weekend, pulling in a combined $105m over three days.
Opened on Saturday, Never Say Die easily took the box office crown with $44.77m from its first two days only. The new comedy is produced by Mahua FunAge, the same theatre company behind 2015's National Day top earner Goodbye Mr. Loser. Allen Ai, Ma Li and Shen Teng from Goodbye Mr. Loser return to topline the cast.
The Foreigner came in second place with $22.15m, half of what Never Say Die earned, also from two days. Martin Campbell-directed action drama stars Jackie Chan and Pierce Brosnan.
Chasing The Dragon took $13.36m from its first two days, narrowly beating Sky Hunter for third place. Directed by Wong Jing, the former is a 1960s Hong Kong-set gangster flick that pairs A-listers Donnie Yen and Andy Lau together for the first time onscreen.
Sky Hunter followed in a close fourth with $13.29m from its first three days. Billed as China's first ever aerial warfare film, it opened in second place on Friday, but it was knocked to the fourth with the Saturday opening of the above three films. It is the directorial debut of actor Li Chen, who also stars in the film opposite his real-life girlfriend Fan Bingbing.
City Of Rock rounded out the top five with $12.26m from its first three days. The music comedy is the second film directed by comedian Da Peng whose directorial debut Pancake Man was a smash hit in 2015. Although it topped the chart on its Friday opening, it fell to the fifth on both Saturday and Sunday.
It was followed by imported holdovers in the weekly top 10 (Sep 25 – Oct 1): War For The Planet Of The Apes on $9.45m for $110m after 17days; The Hitman's Bodyguard on $7.13m for $21.02m after 10 days; The Invisible Guest on $5.27m for $21.54m after 17 days; and Spider-Man: Homecoming on $2.13m for $117.85m after 24 days.
S.M.A.R.T. Chase, starring Orlando Bloom and Simon Yam, came in last with $1.69m from its first two days.
The top five holiday titles are expected to stay high in the chart for the time being as the next big release will not arrive until Kingsman: The Golden Circle opens on Oct 20.
Although Never Say Die is now the frontrunner, it's too early to tell who will be the ultimate champion over the National Day period. Both Operation Mekong and Goodbye Mr. Loser, released for 2016 and 2015's National Day holidays respectively, leapt to the top of the box office only in their second week or so and subsequently became the respective year's champion.