Johnny Depp sequel dethrones surprise smash hit Dangal.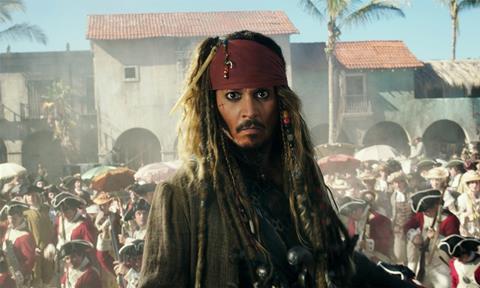 As generally expected, Pirates Of The Caribbean: Dead Men Tell No Tales easily stole the Chinese box office crown in the week of May 22-28.
Its three-day weekend of $66.3m represented the third highest three-day opening weekend for Disney, after Captain America: Civil War and Avengers: Age Of Ultron. It has also almost tied with the entire run of Pirates 4.
As Disney's latest tentpole sequel opened in 91% of the international market simultaneously with North America, China emerged on top, even higher than North America's $62.2m. Its opening in China coincided with the three-day Dragon Boat Festival holidays which started on Sunday till Tuesday, while its performance was still tracking strongly yesterday.
After sitting atop the box office for two weeks, Dangal was dethroned by Pirates 5 and dropped to the second place with $22.8m for $134.7m after 24 days. But none of the five Chinese films that entered the chart was able to beat the sleeper hit over the weekend.
Sony's sci-fi thriller Life held onto the third place with $5.2m for $18.2m after 10 days.
Among the new Chinese films, God Of War fared the best in fourth place with $4.1m from its first two days. Directed by Gordon Chan and starring Sammo Hung and Vincent Zhao, the period action war film is based on a true story about a famous Chinese military general who leads his forces against Japanese pirates during the Ming dynasty.
Disney's Guardians Of The Galaxy Vol. 2 fell to fifth place with $3.8m for $97.3m after 24 days.
It was followed by four new Chinese films, all of which were for the two-day weekend: the directorial debut of Taiwan's top TV host Kevin Tsai, Didi's Dream, on $2.1m, starring Dee Hsu, his co-host of popular variety show Kangsi Coming, and Taiwan's supermodel-turned-actress Lin Chiling; rising star Zheng Kai's romantic comedy La Historia Du Un Amor on $1.0m; Taiwanese director Chang Jung Chi's Edge Of Innocence on $0.8m, based on Japanese mystery writer Soji Shimada's novel Summer, The Portrait Of A 19-Year-Old; and local family animation The Three Little Pigs on $0.7m for $1.4m.
Universal's The Fate Of The Furious added $0.7m for $388.5m after 45 days from an extended run.
This week will see the release of Doraemon the Movie 2017: Nobita's Great Adventure In The Antarctic Kachi Kochi on May 30, Beautiful Accident, The Lost City Of Z and Wonder Women on June 2.
Wonder Women is the first of several Hollywood blockbusters to hit Chinese cinemas in June. Also dated for release are The Mummy (June 9), Alien: Covenant (June 16) and Transformers: The Last Knight (June 23).