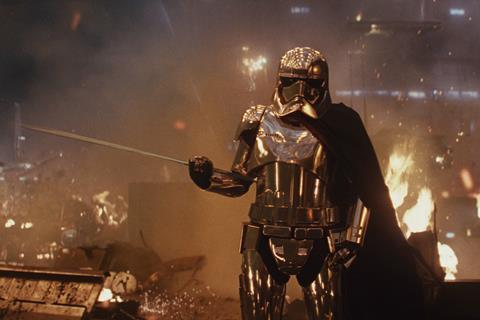 China kicked off the New Year with a massive $200m hit delivered by The Ex-File: The Return Of The Exes, but Star Wars: The Last Jedi opened soft.
Disney's Star Wars: The Last Jedi was the first Hollywood blockbuster to arrive in 2018, but it was easily defeated by a large margin. Despite its worldwide success ($1.2bn worldwide so far), it took $30.9 from its three-day opening weekend, half of Star Wars: The Force Awakens and about 70% of Rogue One: A Star War Story which was released almost exactly one year ago.
Star Wars: The Last Jedi was the only new entry in the top 10 chart.
Instead The Ex-File 3 has become the first runaway success of 2018, garnering $167m in the first week (Jan 1-7). It's almost on par with the second week earnings of last October's National Day champion Never Say Die, which went on to gross over $350m and local box office trackers expect it to reach the same level after adjusting their forecast.
Despite a $42m opening weekend which put it in second position, Ex-File 3 is now standing at $216.2m after 10 days, making it the 11th highest grossing local film of all time and the 19th highest grossing film overall.
Starring Han Geng and Zheng Kai, the local romance comedy is about two buddies who get tangled up in adventures when their ex-girlfriends come back into their lives. It has more than quadrupled the combined box office of the first two films in the Ex-File series.
After topping the Chinese box office for three straight weeks, Feng Xiaogang's Youth stepped down to third place but still maintained a strong traction with $28.3m for $226.2m after 24 days. It's now the 10th highest grossing local film of all time, but will soon be overtaken by Ex-File 3.
Horror comedy Goldbuster, Hong Kong actress Sandra Ng's directorial debut, added $16.7m for $58.6m after 10 days; closely followed by local fantasy comedy Hanson And The Beast, starring The Continent's Feng Shaofeng and Liu Yifei, Disney's new Mulan, which took $16.1m for $44.4m after 10 days.
Han Jie's Chinese adaptation of Japanese bestseller Miracles Of The Namiya General Store took $10.5m for $35.9m after 10 days; ahead of Chen Kaige's lavish Tang dynasty fantasy romance Legend Of The Demon Cat, with $8.1m for *86.2m after 17 days.
Disney-Pixar's Coco, already the second highest grossing animation ever, continued to charm Chinese audiences in an extended run with $7.1m for $199.2m after 45 days.
Rounding out the chart were sci-fi thriller Bleeding Steel, starring Jackie Chan, on $2m for $50.6m and local crime thriller The Liquidator, with Deng Chao and Ethan Juan, on $1.3m for $36.8m, both after 17 days.