China's box office finished a wild week (Aug 6-12) with $282m, including $84m on Friday alone. These figures represented this year's highest weekly total and the biggest single day box office outside the Chinese New Year period.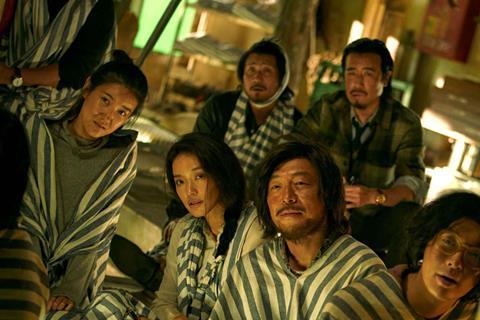 The strong performance was mainly driven by three new titles, with local film The Island finally taking the crown after playing musical chairs with iPartment and The Meg in the top three spots.
The Island topped the charts with $76.2m from its first three days. After opening in second on Friday with only half of iPartment's gross, it rose to the top on Saturday and Sunday.
The offbeat comedy follows a group of coworkers who find themselves shipwrecked on an island. It marks the directorial debut of popular comedian Huang Bo (Mojin: The Lost Legend), who also heads the cast with Shu Qi and Wang Baoqiang.
iPartment scored a massive Friday opening on $44.2m, even more impressive than recent mega-hits Dying To Survive and Hello Mr Billionare. But it turned out to be a false start as it quickly slid down to second place on Saturday and further to third on Sunday. Taking $69.9m from its first three days, it settled for second place overall.
Some $15m worth of tickets were pre-sold before the opening but they were widely believed to be engineered by the distributors to boost ticket sales. However a bigger controversy lies with the film itself, which has been marketed as the big screen version of a popular Chinese sitcom of the same name. The poster even has the 10th anniversary reunion of the original's cast as the tagline. But unlike the original sitcom, it does not revolve around the romance of a group of 20-somethings who live in an apartment building. Instead, it is a fantasy adventure based on Xu Lei's popular online tomb-raiding novel series, which was also adapted for 2016's Time Raiders.
iPartment received a strong backlash when the audiences found out the truth, causing the box office to drop heavily by about 58% on Saturday and 80% on Sunday, compared to Friday.
The Meg made a splash in third with $49.6m from its three-day opening weekend, slightly more than its $44.5m North American debut, making it a rare US-China co-production that has found success in both markets. Co-produced by Warner Bros and Gravity Pictures, the giant shark action thriller starring Jason Statham and Chinese actress Li Bingbing gained traction and rose to second place on Sunday, overtaking iPartment.
After staying top for two weeks, Hello Mr Billionaire dropped to the fourth with $45.1m for $333.8m after 17 days. It has climbed higher to become the 10th highest grossing film of all time, beating Monster Hunt 2 and another Mahua FunAge's comedy Never Say Die.
Tsui Hark's martial arts fantasy Detective Dee: The Four Heavenly Kings added $9.5m for $84.6m after 17 days; ahead of Hirokazu Kore-eda's Palme d'Or winner Shoplifters which maintained well with $5.2m for $12.2m after 10 days, outperforming Gintama to become the top Japanese live-action film in China of all time.
Two Chinese animations were back-to-back: Yugo & Lala 4 and Wind Guardians each grossed $5m for $12m and $15.4m respectively, both after 10 days.
Rounding out the charts were Skyscraper, starring Dwayne 'The Rock' Johnson, which is on $3.2m for $95.3m after 24 days and local historical war film Blood-Soaked Guangchang on $2.2m for $4.3m after 12 days.
A diverse range of films will roll out on Aug 17, including Hotel Transylvania 3, Europe Raiders, Oolong Courtyard and Go Brother.