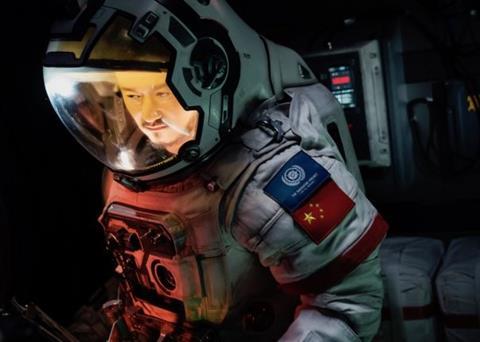 Led by The Wandering Earth, Crazy Alien and Pegasus, the Chinese box office racked up a total of $858.7m ticket sales over Feb 4-10, spanning from Chinese New Year's Eve to the first six days of the lunar new year.
During this prime period, the Chinese box office delivered mixed results. Feb 5, the first day of the week-long holidays, scored a new global record for the biggest single day performance in a single market when it took in $211.9m, beating last year's world record by 12.7%.
Nevertheless, the subsequent daily box office in the next five days all fell below the level in 2018. The overall ticket sales still went up by a marginal 1.4%, but admissions dropped by 10.3% compared to the same seven-day period last year.
Every Chinese New Year season is crowded and it is more so this year with eight major films opening on the first day, compared to six last year. After six days in a head-on battle, their rankings shifted in various ways.
The Wandering Earth which debuted in fourth place on its opening day (Feb 5) moved up to second place on its second day before reaching the top from its third day (Feb 7). (As a comparison, Dante Lam's Red Sea Operation also debuted in fourth place and climbed to the top on its seventh day on release before eventually becoming the overall Chinese New Year champion last year.)
Billed as China's first big budget sci-fi film, The Wandering Earth saw its daily box office rise every day with a whopping $286.4m over its first six days, making it the 14th highest grossing film of all time. It has also become the highest grossing local title ever for IMAX with a record $27.6m after six days, surpassing Mojin: The Lost Legend.
Local tracking has since revised its box office estimates to $754.2m, which will place it only behind Wolf Warrior 2 as the second highest grossing film of all time. Directed by Frant Gwo (My Old Classmate), the sci-fi features Wu Jing (from Wolf Warrior franchise) as an astronaut on a mission to save the Earth when the sun dies out.
Crazy Alien which was the initial frontrunner for two days was knocked out by The Wandering Earth on its third day and their gap widened over the week. The comedy, which also features some sci-fi elements about an alien visitor, earned $206.4m over its first six days, making it the 11th highest grossing local film of all time. It has also become the biggest film for director Ning Hao, surpassing his 2014's Breakup Buddies.
Ning is well known for his Crazy series, with 2006's Crazy Stone and 2009's Crazy Racer, all of which star his regular actor Huang Bo who is also in the new film, which is Ning's first Chinese New Year film.
Pegasus debuted in second on its opening day and dropped to third from the second day onwards, taking in $148.6m from its first six days. By today (Monday), it has become the biggest film for writer-turned-director Han Han, surpassing his Duckweed which was released during 2017 Chinese New Year. The comedy is toplined by Shen Teng (also one of the leads in Crazy Alien) who plays a former race car champion set to make a comeback on the racetrack.
The New King Of Comedy opened in third, but was pushed to fourth on its second day and further to fifth from its third day onwards, earning $75.7m from its first six days. The follow-up to the 1999's original film also directed by Stephen Chow paled in comparison with his last film The Mermaid, which was the 2016 Chinese New Year champion and remains as the fourth biggest film of all time. The new film stars comedian Wang Baoqiang and an unknown E Jingwen who plays a struggling actress much like herself in real life.
Two pig-themed animations were in the mix. Boonie Bears: Blast Into The Past, the sixth instalment from the popular franchise opened in fifth and overtook The New King Of Comedy for fourth place from its third day onwards, taking in $60m from its first six days. Last year, the franchise's fifth instalment, Boonie Bears: The Big Shrink, was a runaway success during Chinese New Year.
Like Stephen Chow, Jackie Chan failed to duplicate his former Chinese New Year success. The Knight Of Shadows: Between Yin And Yang, a period action fantasy starring Chan and Taiwanese actor Ethan Ruan and directed by Yan Jia, grossed an underwhelming $18.3m from its first six days. Chan-starrer Kung Fu Yoga was the 2017 Chinese New Year champion.
Another local animation Peppa Pig Celebrates Chinese New Year followed closely with $16m, while Alan Mak's Hong Kong anti-corruption thriller Integrity, starring Lau Ching Wan and Nick Cheung, took $13.5m.
While the Chinese New Year battle will usually drag on for weeks, Fall In Love At First Kiss is scheduled for Valentine's Day, Feb 14.