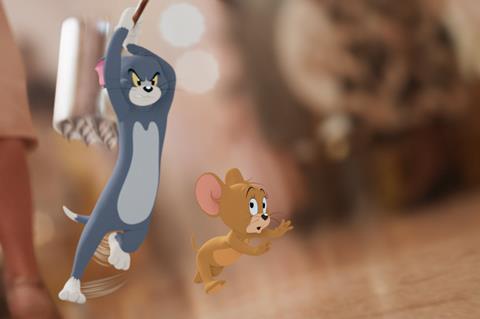 Warner Bros' Tom And Jerry grossed $12.4m on its opening three-day weekend in China (February 26-28), according to figures from theatrical consultancy Artisan Gateway, scraping in at fourth position in the weekend chart.
While the animation/live action hybrid grossed just under its North American debut of $13.7m, the China results are relatively soft considering the market is mostly back up and running following the Covid-19 shutdowns of last year.
One reason is that audiences are still flocking to the Lunar New Year releases that opened on February 12. Among these, time travel comedy Hi, Mom topped the weekend box office, pulling in an additional $53.2m for a cumulative total of $742.2m. Detective Chinatown 3, which headed the box office for most of the Lunar New Year holiday period (February 11-17), came in second this past weekend with $19.7m for a cume of $664.8m.
Rao Xiaozhi's action comedy Endgame came in third with $14.5m for a cume of $70.5m, while Lu Yang's A Writer's Odyssey ranked just behind Tom And Jerry over the weekend, with $12.4m for a cume of $137.7m.
Hi, Mom is now the third biggest title ever in China, according to Maoyan figures, following Wolf Warrior 2 with $878m (RMB5.69m) and Nezha with $776m (RMB5.03bn). Sci-fi epic The Wandering Earth is fourth in the all-time top ten, with $722m (RMB4.68bn), while Detective Chinatown 3 currently ranks as fifth.
China's combined box office over the three-day weekend was $125m, according to Artisan Gateway, while box office for the year to date has reached $2.4bn.
Releases scheduled for this weekend include Disney's Raya And The Last Dragon and local horror film Endless Love. Warner Bros and Legendary Entertainment's Godzilla Vs. Kong has been scheduled for March 26.