Guilty Of Mind and The Adventures open in second and third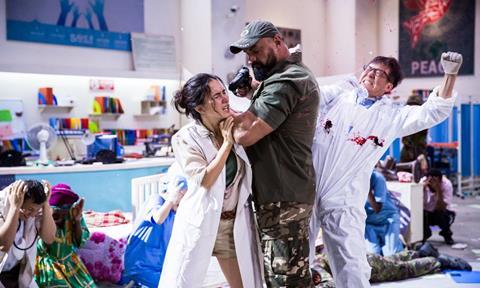 It was a hat trick for Wolf Warriors 2 which maintained its top earner status in the week of Aug 7-13. With an additional $201.88m, its 18-day total now sits at $660.72m, making it the biggest film ever in Chinese history, surpassing Stephen Chow's 2016 Chinese New Year offering The Mermaid by $156m, and the first film ever to clock up 100 million audience admissions.
Internationally, it has also remained as the top global release for three weeks.
Distributed by Beijing Jingxi Culture & Tourism, the Africa-set action film directed by and starring Wu Jing has brought sizzle to the Chinese summer box office, which is traditionally less lucrative than Chinese New Year.
The last blockbuster summer was in 2015 when a trio of huge hits - Monster Hunt, Pancake Man and Monkey King: Hero Is Back - grossed a combined $660m, coincidentally the current box office of Wolf Warriors 2.
In comparison, the first Wolf Warriors, also directed by and starring Wu Jing, grossed $79m in 2015, which made its year-end ranking only at 22th overall.
Five new local films entered the top 10, but none of them could dethrone Wolf Warriors 2. Guilty Of Mind fared the best among the newcomers, taking $23.62m from its first three days. The crime thriller is directed by Xie Dongshen and stars Liao Fan who won best actor at 2014 Berlin for Black Coal, Thin Ice, and Li Yifeng.
The Adventures opened in a close third with $21.45m from its first three days. Directed by Tai Chi Zero's Stephen Fung, the Hong Kong heist film was primarily filmed in Europe from Cannes to Prague, with a stellar cast including Andy Lau, Shu Qi and Jean Reno. The film is the first big release from Flagship Entertainment, the joint venture between Warner Bros and Li Ruigang's China Media Capital (CMC).
Fantasy romance Once Upon A Time, starring Liu Yifei and Yang Yang, dropped to the fourth with $13.33m for $75.36m after 11 days; narrowly ahead of Legend Of The Naga Pearls on $12m from its first three days. The latter is a fantasy adventure directed by Yang Lei and starring Our Times' Wang Ta Lu and I Belonged To You's Zhang Tianai.
The Founding Of An Army fell further to the sixth with $5.94m for $54.20m after 18 days; followed by historical war film The War Of Loong on $2.5m for $4.1m after 10 days; Despicable Me 3 on $2.03m for $149.13m after 38 days; BBC Earth's documentary One Amazing Day on $1.59m from its first three days and local animation Seer Movie 6: Invincible Puni on $1.1m from previews only.
The Chinese box office will continue to be packed with Chinese films this week, with Paradox, Peace Breaker (both on Aug 17), Seer Movie 6: Invincible Puni and One Thousand Bad Jokes 2 (both on Aug 18). Now Wolf Warriors 2 is in its fourth week, it remains to be seen who has the strongest muscles to knock it off from the pole position.
Read more:
China box office mid-year report: Transparency concerns, franchise fatigue and the biggest film ever