Period martial arts film Brotherhood Of Blades 2 blasts weekend.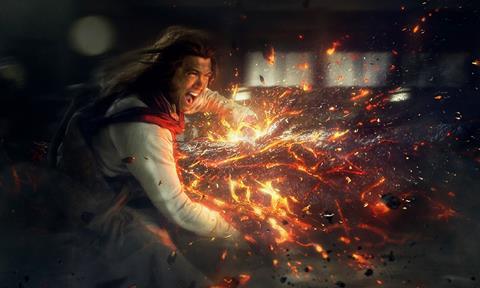 Wu Kong continued to reign at the Chinese box office in the week of July 17-23 with $33.04m, bringing its 11-day total to $91.01. The local fantasy action adventure has become the fifth highest grossing Chinese film this year, behind four Chinese New Year hits.
However, Hong Kong director Derek Kwok won't match his last huge hit Journey to The West: Conquering The Demons which he co-directed with Stephen Chow. The latter grossed over $180m (based on current exchange rate) in 2013.
Brotherhood Of Blades 2 blasted the weekend as it stayed atop the chart since its Wednesday opening. With $25.65m from its first five days, the period martial arts film has surpassed the final gross of its 2014 predecessor, but it had to settle for second place overall, behind Wu Kong.
Produced by Breakup Buddies director Ning Hao, the new film reunites the original's director Lu Yang with his actor Chang Chen. Popular actress Yang Mi joins the cast.
A total of five new films including Brotherhood Of Blades 2 entered the weekly top 10. But last week's box office shrank by approximately 21% week-on-week, reaching a new low in July.
Despicable Me 3 dropped further to third place with $20.72m for $133.62m after 17 days.
The Universal and Illumination animation has become the eighth highest grossing non-Chinese film this year. It is still currently the fourth highest grossing animation of all time, but is catching up fast with Monkey King: Hero Is Back in third place.
Yuan Weidong's Father And Son debuted in fourth with $12.03m from its three-day opening weekend. It opened in second on Friday, behind Brotherhood of Blades 2 and ahead of Wu Kong, but quickly dropped to third on Saturday and fourth on Sunday.
The local comedy, starring Da Peng and Fan Wei, failed to live up to expectations, given Da is the director-actor of Pancake Man, one of the three huge summer hits in 2015. Fan is last seen in comedy The One which has yet to cross $15m since its early July opening.
Local adult animation Da Hu Fa maintained in fifth with $5.91m for $10.72m after 11 days; ahead of two new Chinese films. Romance comedy Our Shining Girls took $4.75m from its first four days, while another local animation Tea Pets earned $2.75m from its first three days.
They were followed by two Chinese holdovers: sci-fi fantasy Meow on a 10-day total of $6.25m and horror thriller The House That Never Dies 2 on an 18-day total of $31.01m. Japanese film Midnight Diner 2 rounded up the chart with $1.64m from its first six days.
Outside the top 10, Transformers: The Last Knight finished its one-month run on Sunday with $224.37m as the 10th highest grossing film of all time, but behind its predecessor Transformers 4, which grossed $60m more and ranked fifth.
More high-profile Chinese blockbusters will be delivered this week, with Wolf Warriors 2 opening on July 27 and The Founding Of An Army on July 28.