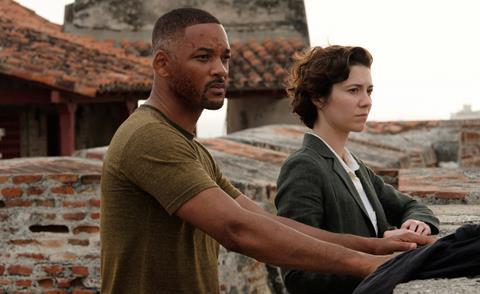 The big question being pondered by sales agents trying to sell into China in recent months is whether the country's censorship regime will relax following the National Day holidays, which end on Monday (Oct 7).
A key box office period usually reserved for local films, this year's holiday has been particularly sensitive as it also celebrated the 70th anniversary of the founding of the People's Republic of China. Chinese cinemas have been mostly showing nationalistic local films during the holidays (Oct 1-7), including The Climbers, The Captain and patriotic omnibus My People, My Country, which have grossed a combined $392m in six days.
But it's been a tough year for some foreign imports as Beijing's political relationship with various nations has affected the censorship process. US indies have had a particularly hard time thanks to the ongoing US-China trade war and other issues. Korean films have been blacklisted since 2016 due to political tensions between Beijing and Seoul, and Swedish films appear to have fallen victim to China's disapproval of recent Nobel prize winners.
While none of these bans have been made official, buyers are playing it safe and avoiding some content. It's clear the censorship process has changed since the China Film Administration was established under the propaganda department of the Chinese Communist Party in 2018. But nobody understands exactly how the rules have changed.
"Some US indie films are being released now, but buyers are hesitant to acquire more titles because the policy is not clear," said one buyer who asked not to be named.
Another buyer said: "Even though no written document has been issued, indie films from the US, Canada, Australia and Sweden are finding it difficult to get approval."
US indie films were starting to grow in both volume and box office in the China market until the beginning of this year. Last year, Lionsgate's Wonder grossed $30m and Resident Evil: The Final Chapter, imported on a flat fee basis, took an impressive $159m in 2017. But according to the Independent Film & Television Alliance (IFTA), only one US indie title, Uncle Drew, was released in China in the first half of 2019, compared to 19 titles during 2018 and 18 in 2017.
"There was a period of four to five years when the sector was growing and the Chinese industry was given a lot of flexibility, but now the propaganda ministry has taken over, all that has changed," said IFTA CEO Jean Prewitt.
US studio films have not been affected so far this year. Ang Lee's Gemini Man and Quentin Tarantino's Once Upon A Time In Hollywood are both being released this month, although both are being imported as flat fee films, not under the US studio quota. Both also have significant Chinese backing, which could have eased that process.
It's also a good time to be selling foreign-language films from outside the unofficially banned nations. A third buyer observed that Indian and Japanese films are enjoying stable box office, although it's only really animated films from Japan that are working. European titles are also being cleared but only a handful are seeing strong box office results.
Although the Chinese box office received a bump over the summer, mostly due to $694m hit animation Nezha, the year to date is tracking below last year by around 2-3%. However, in previous years it has been Hollywood or big local titles, rather than indie imports, that have been able to make up any year-end shortfall. And this year it looks like politics rather than economics could be the driving force in the China market for some time to come.