Christopher Nolan would be the first name on many studio heads' director wish-lists. From the streets of Gotham City to the far reaches of space, Nolan doesn't miss. Dunkirk is no different in that regard.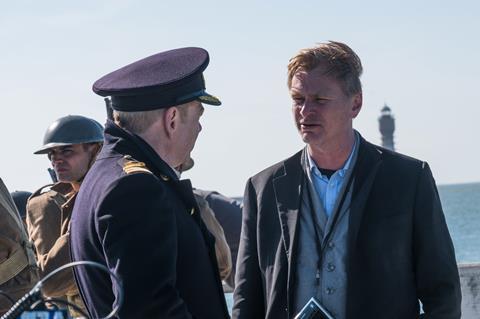 The Second World War blockbuster has grossed $530m globally and is considered a leading Oscar and Bafta contender, including for best picture and director — the latter being a category that has surprisingly so far failed to net Nolan a single nomination from the US Academy (he has a single Bafta directing nod, for Inception).
And yet, despite the filmmaker's seven previous movies for Warner Bros garnering billions of dollars and widespread critical acclaim, Dunkirk represented a high-risk gamble for both director and studio. Most studio bosses would blanch at the combination of a $100m-plus period war film about a military defeat in Europe with virtually no CGI, an unconventionally structured storyline that focuses almost exclusively on British characters, and a cast featuring a host of unfamiliar faces in key roles. Throw in complex aerial and water shoots, thousands of extras and sparse dialogue, and even a director of Nolan's lofty standing would be on dicey ground.
Dunkirk was a gamble that required the director to go to places he had never been before; places that required him to shoot in new ways, and to fear in new ways. The filmmaker was not alone in needing to go out of his comfort zone. "I was asking for a real leap of faith from the studio and my collaborators," he says about his cinematic vision for retelling the story of 340,000 Allied soldiers being evacuated from northern France by military and civilian boats between May 26 and June 4, 1940 — an event cited as one of the turning points in the war.
Dunkirk is 47-year-old Nolan's first movie based on historical events. The director's passion for the project was partly inspired by his own experience. More than 20 years ago the director, his wife and producer Emma Thomas and a friend attempted to reach Dunkirk in a small boat. Hampered by rough seas and bad weather, the voyage across the Channel unexpectedly took 19 hours. The experience would give Nolan a whole new appreciation for the seminal event he had only read about in books.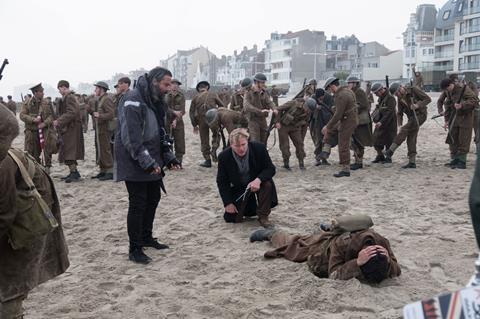 "That trip was the initial inspiration and what planted the seed in mine and Emma's minds about the importance of the subject, about the incredible nature of the story," he says. "It percolated for many years. About five or six years ago, Emma started giving me first-hand accounts of people who had been there. That opened up something in me in terms of how you might address this story. Emma and I had talked about the fact that this is one of the most incredible stories in history and that it hadn't been addressed in modern films."
In development, Nolan devised the triptych frame for the plot, which follows different but loosely connected individual experiences of the evacuation, on land, on sea and in the air. "I spent some time trying to figure out a structural device that would allow me to retain subjectivity throughout the entire movie," he says. "Once I had that structure, that's when I started to write."
Despite Nolan earning near-complete confidence from Warner Bros, the filmmaker kept the project under wraps. "I've earned a degree of trust from the studio and that helps. But I also made the decision to just go ahead and write the screenplay on my own without telling anybody," reveals the filmmaker, who says the weight of expectation weighed heavily on him. "The sense of responsibility was extreme. You always feel a sense of responsibility for a large-budget movie or, in the case of the Dark Knight trilogy, a responsibility for the fans of the original comic-book character. But this was a real-life event.
"I had the honour and privilege of sitting down and talking to people who were actually there, who suffered through these events," he continues. "That gives you inspiration but it also gives you a huge amount of fear in terms of the responsibility you're taking on. For British people this is sacred ground so you need to tread very carefully."
And yet while Operation Dynamo (as it was code-named) was vast in scale, risk and global significance, the momentous evacuation is still little known in many parts of the world. Nolan's first pitch to Warner Bros was the script itself. "Some at Warner Bros knew the events, or knew them vaguely, some of them had never heard of them at all," he says. "But it's an incredible story and it makes for a fantastic pitch. Part of what I was talking to them about is that there are many Hollywood movies over the years that have had their Dunkirk moment — the real-life story of civilians coming to the rescue, of the military and community pulling together in the face of extraordinary odds. This is the origin of all those stories. That makes for a very compelling pitch."
Intimate epic
During the writing and production, one of the biggest challenges for Nolan was achieving his ambition of creating an 'intimate epic'. "Dunkirk is one of the biggest stories I know of," he says. "It involves 400,000 people. It involves boats, planes, a country rallying. It's a massive story. But it's made up of individual experiences. What I wanted to do was try and create a balance, or indeed a contrast, with the scale of the events, telling them in a very intimate manner. I wanted to be with the characters, peering over their shoulders, trying to experience things from their point of view, from a human scale. In that way, the epic quality of the story builds up through a series of very intimate, subjective portraits."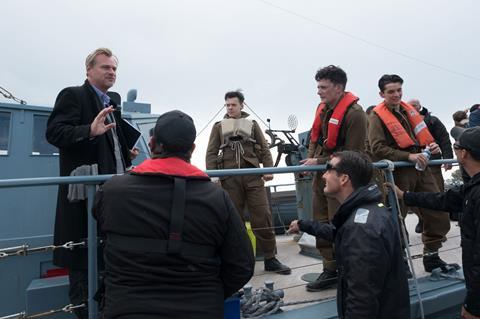 It has been noted that those portraits feature no back story and precious little exposition. "There was a risk with the experimental qualities of the film, there's no question," he says. "But it was carefully planned and I had very specific rationales behind the decisions that were made. So while there's no back stories for the characters, I was able to show everybody films by Hitchcock or Clouzot and say, 'OK, look at how they are creating empathy with a character on screen instantly, just by virtue of their physical situation.' Not hearing about whether they've got somebody back home, or what they're fighting for, or whatever.
"So, I did a lot of careful planning and a lot of explaining to the studio and everyone involved about how this was meant to work. The stripped-down running time, the very short script, really was a function of there being so little dialogue in the film. But you only have to look at the silent era to understand how movies weren't built on dialogue, they were built on the image. It's a powerful argument for trying to tell the story that way. Thankfully I've earned the trust of the studio and my collaborators over the years and they backed me up, and embraced the way in which I wanted to tell the story."
In addition to Thomas, regular Nolan collaborators on Dunkirk were editor Lee Smith, composer Hans Zimmer and production designer Nathan Crowley, while Interstellar's Hoyte Van Hoytema returns as DoP. The director mixed familiar and unfamiliar faces among the key cast, including known quantities Tom Hardy, Kenneth Branagh, Mark Rylance and Cillian Murphy, with relative newcomers Jack Lowden, Barry Keoghan, Fionn Whitehead and Tom Glynn-Carney (Screen International Stars of Tomorrow respectively in 2014, 2015, 2016 and 2017), and One Direction member Harry Styles.
Keeping it real
Another steadfast Nolan collaborator has been the Imax camera. The filmmaker first used the camera for a major picture on The Dark Knight, and he has employed it in some form on each of his subsequent films. He shot Dunkirk, however, with a combination of Imax and 65mm film. As Nolan explains, the decision resulted in virtually no CGI being used in the film.
"We went into the idea of paring back the CG, primarily from a tonal point of view because we shot the entire film on large-format film, which is incredibly high-resolution and gives a beautiful colour reproduction," he says. "When you digitise those images, and when you add computer-generated elements, the effects are very difficult to make fit into the tone of the rest of the film.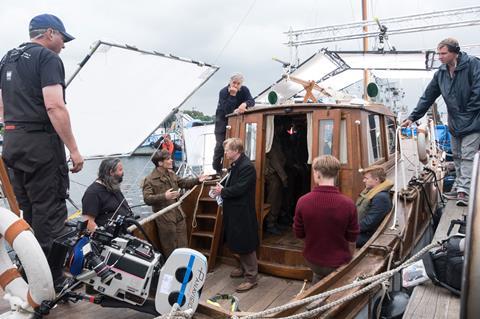 "There's a very real, gritty quality to the film. Andrew Jackson, our visual-effects supervisor, fully understood that he was going to need to find ways to do as much as possible in camera, and used photographed elements as much as possible."
The decision also had a positive effect on the balance sheet. "I think ultimately it made the film cheaper," says Nolan. "There are a lot of very smart, old-fashioned techniques in filmmaking that have been forgotten; they are incredibly efficient and come from the pre-CG era. I happened to find a book by a retired art director called Alan Tomkins. He had worked for us on Batman Begins before he retired. I realised he had worked on all of these great films like A Bridge Too Far.
"Alan was very generous and showed us photographs and paintings of vehicles and things like that. We adopted a lot of those techniques and there were some real efficiencies to be made, things like creating paintings of lines of men on the beach so we could reduce our extras counts other than for the biggest day. Mediocre CG is getting cheaper. But really good CG is expensive and you need the best when you shoot large-format film."
Miniatures and painting work proved vital. So did large-scale construction. In contemporary Dunkirk, there are close to 200 metres of existing pier. The production needed to add another 160 metres, an undertaking that required the help of the city, the port authority, the port engineers and dredging companies. Perhaps the biggest practical challenge for Nolan, however, was the large amount of shooting on water. "Going into the film, I had a lot of experience with large crowd scenes," he says. "I had a lot of experience with aerial units. The one thing I had never done is boats. I worried about it and was very daunted by it, but we had a fantastic marine coordinator, Neil Andrea, and we planned very carefully."
The camera boat used for Dunkirk was an adaptation of equipment Nolan had used for car sequences in his Dark Knight movies, called the Edge, which was essentially a crane mounted to a Mercedes SUV. For Dunkirk, the Edge became a large catamaran mounted with a 26-foot-long, gyro-stabilized, telescopic crane from which almost everything at sea was shot.
Not playing politics
Nolan's tenth film as director has been heralded as a critical and box-office success. It has many cheerleaders, even in quarters Nolan would perhaps rather it didn't. Released in the wake of the UK's vote to leave the European Union, right-wing Brexit apostle Nigel Farage became an unlikely champion of Dunkirk, prompting headlines and articles connecting the two events. Nolan, however, is quick to disassociate the film from any contemporary nationalist agenda or even political comment. "When you're dealing with real-life events, obviously you're locked into the reality of those events," he says. "Dunkirk is an extraordinary story and it's always served as something of a Rorschach test — different people interpret it in different ways.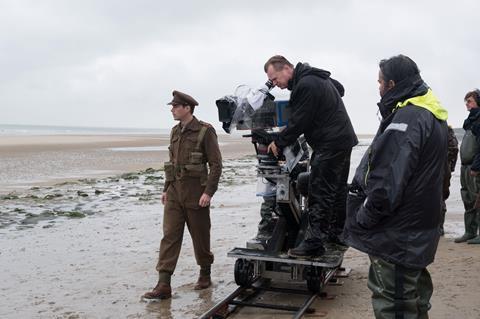 "Brexit happened while we were shooting and was as much a surprise to us as to everybody else. As a filmmaker, you can't control the world that your film goes out into. It is a story about community. It's a story about people coming together in the face of evil. And I think different political groups taking that to mean different things means they're ignoring certain elements of the film."
Tackling military conflict on film generally leaves filmmakers open to controversy. One of the few criticisms of the movie came from a corner of the French press that regarded the feature as downplaying the French presence at Dunkirk, where tens of thousands of local soldiers died defending the town. The press pointed out that more than one third of those evacuated from the beaches were also French, but the only local fighter spotlighted in the film is a frightened soldier who pretends to be British in an attempt to escape. Nolan is keen to set the record straight here, too. "In truth, the whole massive effort behind the evacuation, including tens of thousands of French troops, is why we have Branagh's character at the end say he's staying for the French," he says. "That was of vital importance to Churchill's idea of standing with Europe against the Nazis and about European unity."
Grappling with Dunkirk has given the director a taste for tackling history. That's not to say, however, that the filmmaker will look to do so again on his next film. "We're very relieved and thrilled with the reception of the film," he says. "I would certainly do it again if it were as compelling a story. For me, choosing a project is always about something in that story grabbing me and not letting go. I would never say never, but I think the reason I was drawn to Dunkirk was not necessarily those qualities of it being historical, of it being an epic — it was about the story. The story just grabbed me."