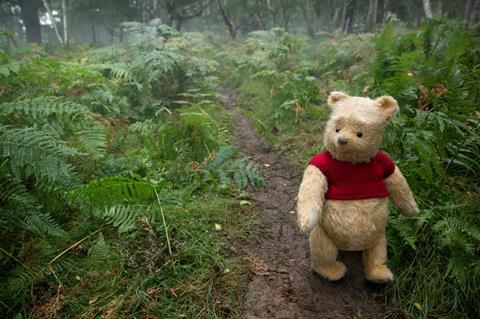 | Rank | Film / Distributor | Three-day gross (Aug 31-Sept 2) | Running gross | Week |
| --- | --- | --- | --- | --- |
| 1 | Christopher Robin (Disney) | £1.2m | £10.6m | 3 |
| 2 | Mamma Mia! Here We Go Again (Universal) | £963,307 | £61.1m | 7 |
| 3 | BlackKklansman (Universal) | £921,474 | £3.1m | 2 |
| 4 | The Meg (Warner Bros) | £881.000 | £14m | 3 |
| 5 | Incredibles 2 (Disney) | £765,000 | £53.3m | 8 |
Source: Screen International
The last weekend of the summer holidays before children in England, Wales and Northern Ireland return to school was dominated by strong holdovers.
Disney
Disney's Christopher Robin took the UK box office crown for the third week in a row with a weekend gross of £1.2m to take it to a cumulative total of £10.6m to date.
Incredibles 2 fell 40% to £765,000 (£53.3m to date), whilst Ant Man And The Wasp garnered £495,000 and has now grossed £16.7m in the UK.
Universal
Mamma Mia: Here We Go Again also continued to perform well with a three-day gross of £963,307 for Universal.
The feel-good sequel has now grossed £61.1m, making it the second highest film in the UK of the year to date behind Disney's Avengers: Infinity War (£70.7m). It is possible sing-a-long screenings and repeat viewings will take Mamma Mia 2 to within touching distance of the first film which grossed a total of £68.6m in 2008.
Spike Lee's BlackKklansman dropped just 16% on its second weekend on release to take £921,474 and £3.1m to date for Universal.
Warner Bros
Warner Bros' shark thriller The Meg was pushed into fourth place, earning £881,000 (£14m to date).

Sony
The biggest opener was Sony's Searching, a mystery thriller directed by Aneesh Chaganty, starring John Cho and Sara Sohn, which grossed £661,000 from 401 sites. The film about a girl looking for her missing father by hacking into his laptop for clues, took £760,000 including previews.
Now at number seven in the UK weekend chart, The Equalizer 2 grossed £625,000 to take it to £6.1m after three weeks on release. The distributor also saw Hotel Transylvania 3 perform strongly to take £555,000 and £17.6m to date. Slenderman took £165,000 (£894,000).
Paramount
Just behind the Sony double was Paramount's Mission: Impossible-Fallout on £520,000 (£23m to date). Their comedy Action Point, starring professional daredevil Johnny Knoxville, grossed just £34,000 on its first weekend on release.
StudioCanal
Anotnew new opener was StudioCanal'sYardie, the directorial debut of UK actor Idris Elba, which grossed £364,420 over the three-day weekend. It has taken £437,829 to date. Aml Ameen stars in the story of a young Jamaican man growing up in London in the 1970s and 80s.
eOne
On their second week on release, eOne's The Children's Act took £358,942 (£1.4m to date).
STXinternational
STXinternational's comedy The HappyTime Murders, directed by Brian Henson and starring Melissa McCarthy as a detective who teams up with a puppet to hunt down a puppet serial killer, grossed £341,604, at UK cinemas this weekend. Including previews, it has taken £693,000 to date.
Lionsgate
Lionsgate UK's The Spy Who Dumped Me earned £230,669 (£1.9m to date).
Entertainment
Entertainment's comedy The Festival grossed £199,389 to take it to £3.1m after three weeks on release.
Curzon
Curzon Artificial Eye's Cold War opened with £180,096 from 61 sites for an impressive site average of £2,952. (It earned £228,780 including previews). Pawel Pawlikowski's black- and-white,Polish language love story is the highest-grossing arthouse foreign-language film of the year to date behind The Square (also released by Curzon) which took £154,544 in March. Cold War premiered in Competition at Cannes in May.
Note: Figures for Universal's opener Upgrade were not available at press time.