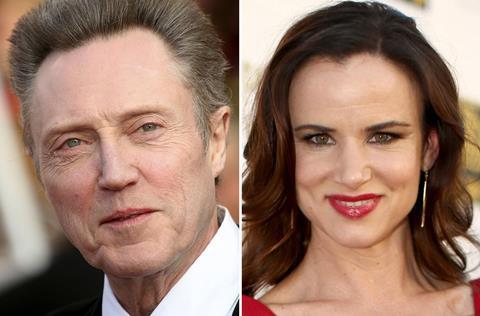 Christopher Walken and Juliette Lewis will be honoured at the 2017 Antalya Film Festival (October 21-27).
Oscar-winner Walken (The Deer Hunter) will be presented with an Honorary Golden Orange Award for Outstanding Contribution to the Art of Film.
Lewis (Natural Born Killers, Cape Fear) will be presented with the keys to the city from Antalya mayor Menderes Turel.
Jim Jarmusch regular Masatoshi Nagase (Radiance) will also take part in the festival's opening night festivities.
Filmmakers set to attend include Sean Baker (The Florida Project), Ai Wei-Wei producer Chin-Chin Yap (Human Flow), Aida Begic (Never Leave Me), Michel Hazanavicius (Redoubtable), Michel Franco (April's Daughter), Golden Bear winning producer/director Vivian Qu (Angels Wear White), Academy award winner, Danis Tanovic (No Man's Land) and Annecy audience award winners Dorota Kobiela and Hugh Welchman (Loving Vincent).
Due to his passport being detained by the Iranian authorities, Mohammad Rasoulof, winner of the top Un Certain Regard prize for A Man Of Intergrity, will be unable to attend the festival but his co-producer Kaveh Farman will be in Antalya to support the film.
Joining jury president Elia Suleiman will be Turkish actress, producer and writer Fadik Sevin Atasoy (Usta), Brazilian director and visual artist Karim Ainouz (Madame Sata), Icelandic composer, musician, performer and former member of Sigur Rós Kjartan Sveinsson (The Last Farm), and British playwright and Academy Award winning screenwriter Rebecca Lenkiewicz (Ida).
The festival's official selection includes April's Daughter (Michel Franco), The Florida Project (Sean Baker) and Human Flow (Ai Wei Wei).
Independent European film producer Mike Downey was appointed as the new artistic director of the festival earlier this year.