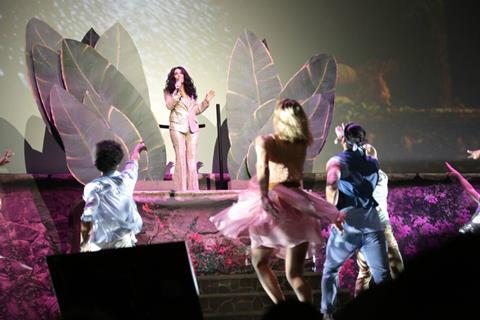 Universal Pictures rounded out a high-energy presentation in Las Vegas on Wednesday morning (April 25) when Cher delivered a show-stopping performance of Abba's Fernando in support of Mamma Mia: Here We Go Again!
The finale drew a standing ovation from CinemaCon attendees and capped an exuberant session at the Colosseum in Caesars Palace that featured Tiffany Haddish and Kevin Hart, Samuel Jackson and Bruce Willis, Chris Pratt and Bryce Dallas Howard, and Ryan Gosling and Claire Foy, among others.
Studio chairman Donna Langley took to the stage towards the end of the session to cue up footage from Mamma Mia: Here We Go Again!, the sequel to the $609.8m global hit Mamma Mia that arrives on July 20.
Langley also introduced footage from June 22 release Jurassic World: Fallen Kingdom. Chris Pratt and Bryce Dallas Howard pitched the film to the crowd.
A little before that, M Night Shyamalan appeared on stage with Bruce Willis, Samuel L Jackson, James McAvoy and Sarah Paulson to promote Glass, the culmination of the 2000 Unbreakable saga that launched in and continued with 2016 smash Split.
Shyamalan told the crowd, "Glass is the first truly grounded comic book movie." Earlier he said, "In Unbreakable I tried to tell an original story of a superhero who lives in a real world played by Bruce Willis. Two years ago I based a movie [Split] on another idea. What if there were afflictions or disorders that society thought made [people] broken actually made them extraordinary."
After exclusive footage, Jackson got a big laugh when he said, "It's about time I got the title role in my own motherfucking movie." Glass opens on January 18, 2019.
The Universal session delivered a seemingly endless parade of talent. Peter Jackson sent a taped message from New Zealand where he is working to get the action fantasy Mortal Engines ready in time for the December 14 release. Jackson presented footage showing a malevolent Hugo Weaving waging war on anybody who gets in his way in a post-apocalyptic world where cities are contained in giant mechanised vehicles.
Oscar winner Damien Chazelle, Ryan Gosling and Claire Foy turned up to present moving footage from Neil Armstrong drama First Man, clearly a potential awards contender that opens on October 12.
Illumination Entertainment chief Chris Meledandri made his annual appearance at the show and announced that Harrison Ford will make his animation debut in The Secret Life Of Pets 2, which is due out on June 7, 2019. Girl of the moment Tiffany Haddish has also joined the cast, and was on hand to banter with Kevin Hart, her co-star on the comedy Night School, which opens on September 28.
That film's producer Will Packer said, "Whether it's Girl's Trip or Black Panther, the world is showing how ready it is for new voice and new stories and you guys are part of making that happen."
Meledandri added that the studio was in the early stages of production on the next Sing film, as well as two other titles. He reminded attendees that in eight years the company has generated more than $6bn worldwide before showing footage from November 9 tentpole Benedict Cumberbatch starrer The Grinch, which has been configured as an origins story.
Jamie Lee Curtis arrived on stage to talk up October 19 release Halloween from Universal collaborator Jason Blum, who produced current release Truth Or Dare. Curtis reprises her original 'scream queen' role as Laurie Strode in John Carpenter's 1978 horror classic.
David Gordon Green's latest instalment sets up a showdown between Laurie and her old nemesis and serial killer Michael Myers. Curtis introduced chilling footage that shows Myers in a high-security institution for the insane where a visitor brings him his old mask.
"I first played Laurie Strode when I was 19 years old," Curtis said. "We had no money when we made Halloween. Even the Michael Myers mask was originally a William Shatner costume mask picked up at a local store. John Carpenter and Deborah Hill had a vision…
She added that Blum "has enthusiasm like a virus. And I mean a good virus, not like the piece of shit virus I made back in the 80s and I apologise to anyone who had to endure it." That got a big laugh. Curtis was referring to the 1999 horror film Virus.
Blum was on stage to talk up one other film besides Halloween and Glass and cued up footage from The First Purge, which opens on July 4.
Dwayne 'The Rock' Johnson sent a taped message in support of July 13 release Skyscraper and director Rawson Marshall Thurber appeared on stage to present footage from the action epic about a security expert whose family is trapped in a stricken Hong Kong high-rise.
DreamWorks Animation executives showed first footage from How To Train Your Dragon: The Hidden World (March 1, 2019)
Jack Black, Cate Blanchett and director Eli Roth trumpeted Amblin Entertainment's The House With A Clock In The Walls (September 21), a fantasy mystery that is as close to a children's film as Roth has come so far.
"This is the kind of movie I have always wanted to make," Roth said. "I grew up on the Amblin movies in the Eighties… They put kids at the centre of big ideas and big things happening to them so they would never be the same again."