In a brash and at times captivating presentation, studio top brass – without incoming chairman and CEO Jim Gianopulos – used their Tuesday afternoon slot to broadcast the new emphasis on brand synergy.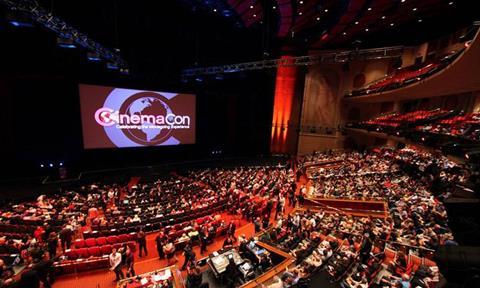 The session called upon the talents of a constellation of stars to leaven the mix as executives drove home the prevailing corporate message.
"You may have read about Paramount a few times in the last year," president of worldwide marketing and distribution Megan Colligan told delegates in The Colosseum. "And to the press in the room – you're welcome. We've kept you busy."
Colligan mentioned this week's appointment of Gianopulos and said staff were "thrilled" as she kicked off a high-energy session that reflected a desire by the studio to put recent troubled times behind it and look to a new chapter.
And critical to the future of the studio will be the underlying strategy of CEO Bob Bakish of parent company Viacom.
"The power of the Viacom brands… in partnership with Paramount Pictures will enable our studio to deliver a diverse slate of films to better served a global audience," president of the Paramount film group Marc Evans told the audience as he introduced a segment on the family feature pipeline.
Evans brought out Pam Kaufman, CMO and president of consumer products at Nickelodeon, to talk up two properties from her stable – Spongebob Squarepants and The Loud House.
Kaufman drove the message home: "Quite frankly we're way bigger than television," she said of Nickelodeon.
The executives said a new collaboration between Paramount Animation and Nickelodeon, Amusement Park, will open on August 10, 2018. Following the theatrical release Nickelodeon will debut a television version of the property in 2019.
Evans ran through the pipeline of family films: Sherlock Gnomes will open on January 12 2018; The Spongebob Movie on August 2, 2019; and The Loud House February 7, 2020. Two Untitled Paramount Pictures Nickelodeon films are scheduled for March 22, 2019, and July 31, 2020.