Studio hosts lively Las Vegas presentation on Wednesday.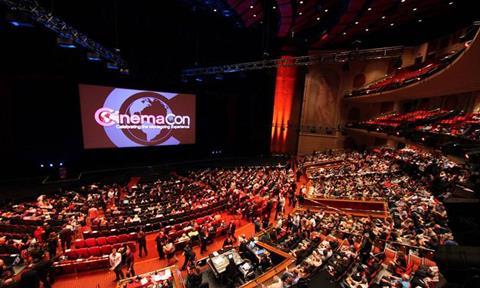 Universal Pictures brought spectacular footage from Tom Cruise starrer The Mummy and invited Steve Carell to the stage to talk up Despicable Me 3.
Studio chairman Donna Langley kicked off the session by congratulating Focus Features on its 15th anniverary and told attendees at The Colosseum in Caesars Palace how Universal just recorded its best first quarter driven by Fifty Shades Of Grey, Split, and Get Out. The latter two titles from Blumhouse Pictures have generated more than $400m worldwide.
Langley added that 2016 was the second most profitable year in Universal history, powered in no small part by Illumination's The Secret Life Of Pets and Sing, which combined for $1.48bn at the global box office.
The executive hailed Illumination Entertainment founder Chris Meledandri as a key part of the studio's family and the animation guru enjoyed a brief chat with Carell.
"There's a humanity to these movies," Carell said, referring to the franchise that returns on June 30 with Despicable Me 3. "And they're funny for adults and they're funny for kids and I think that is part of the appeal."
In the latest instalment, anchor character Gru meets his brother Dru. Carell explained that because Gru was a cynical character, he thought the brother should be earnest "and very giddy, in a way."
The comedian said he would record all Gru's words first before tacking Dru and regaled the audience with examples of how both characters spoke.
Of co-star and recent Golden Globes show co-presenter Kristen Wiig, Carell said: "She is never not funny… she's the best."
Carell also joked that a new minion character in the film, Mel, was based on the Illumination chief. "Mel. Think of your name – Meledandri. Pain in the ass. Thorn in the side. You."
Next up it was time for Tom Cruise starrer and June 9 release The Mummy. The studio showed a montage of early Mummy films and brought on Sofia Boutella, who plays the title role, alongside Tom Cruise's on-screen sidekick Jake Johnson, Annabelle Wallis, and director Alex Kurtzman.
One particular scene on a plane in zero gravity with Cruise and Wallis involved 64 takes. "There was a lot of barfing," Kurtzman said.
Cruise himself was unable to attend CinemaCon but send a recorded message from London introducing heart-pounding footage from "our bold, romantic, terrifying epic monster film."
Girls Trip stars Regina Hall, Tiffany Haddish, Jada Pinkett Smith and Queen Latifah came on to talk up the comedy that opens on July 21. "The sisterhood was really a big part of it," Hall said.
Atomic Blonde star Charlize Theron came on to talk up the R-rated action thriller that premiered recently in SXSW and opens via Focus Features on July 28.
"She's a bitch," Theron said of her character, a kick-ass woman who gets dragged into the world of double agents. "It was a five-year journey," she added later. "We worked our balls off. I have no balls left."
Joining the Oscar-winner on stage were director David Leitch – who is preparing Deadpool 2 – and The Mummy's Boutella, with whom Theron shares a steamy scene.