Round-up: IMAX Corporation and Warner Bros have signed a multi-picture deal to release up to 30 films through 2020. Separately, Digital Cinema Distribution Coalition unveils its live streaming platform this week.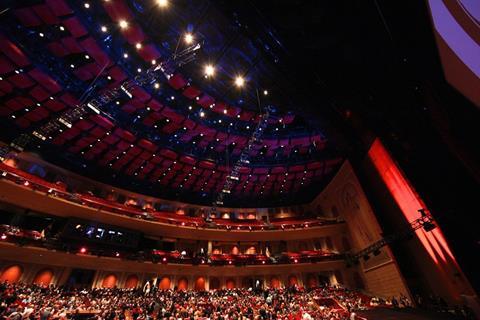 IMAX will partner on such releases as Batman v Superman: Dawn Of Justice, Suicide Squad, Godzilla 2, The Man From U.N.C.L.E., In The Heart Of The Sea, Geostorm, Fantastic Beasts And Where To Find Them and Jungle Book: Origins.
The agreement encompasses a number of upcoming DC films and future LEGO movies including The LEGO Movie Sequel.
Hailing the deal Warner Bros president of international distribution Veronika Kwan Vandenberg said: "Increasingly over the years, international audiences are opting to watch movies on large-format screens, taking advantage of the premium visual and sound quality offered by Imax."
Imax Corp senior evp and Imax Entertainment CEO Greg Foster said the deal "enriches and broadens Imax's relationship with key filmmakers, who have always been a top priority for Warner Bros in bringing the most compelling cinema to audiences around the world."
Digital Cinema Distribution Coalition founders Warner Bros, Universal Pictures, Regal Entertainment, Cinemark Theatres and AMC Theatres will unveil a live streaming service in Las Vegas this week.
The new system is designed to allow the DCDC KenCast catch server to stream live content into an unlimited number of auditoriums from two simultaneous real-time 1080p-HD event feeds.
The catch server allows two additional pre-recorded events to stream in parallel with live content, allowing exhibitors to book up to four events simultaneously to an unlimited number of auditoriums.
Since original deployment in October 2013 DCDC has gone from 17,000 screens in more than 1,200 North American theatres to more than 24,000 in more than 2,000 under contract. DCDC says it has made more than 220,000 deliveries of content. The customer based includes 20 content providers and 58 exhibitors.
Demonstrations will take place from Tuesday to Thursday in DCDC's hospitality suite in the Forum Tower at Caesars Palace.
California-based Hollywood Software has signed an exclusive deal with STX Entertainment to use its Distributor software. Distributor manages theatrical distribution across multiple territories from a single application.