UPDATE: Alejandro Ramirez Magaña struck an early blow for the theatrical lobby at the annual exhibitors convention on Monday when his comments on the controversial Screening Room proposal drew spontaneous applause.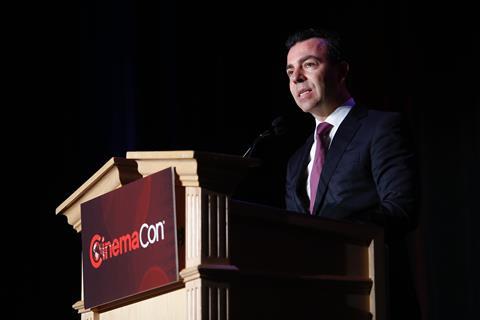 The Mexican CEO and general director of Cinepolis (pictured) wasted little time making his thoughts known in the week that Prem Akkaraju, Napster co-founder Sean Parker's business partner on the disruptive day-and-date distribution proposal, was reportedly heading to Las Vegas to introduce the model to select theatre owners in a series of discreet meetings.
The subject resurfaced in panels on the experience economy and collaboration between distribution and exhibition, and again during an on-stage conversation with award recipient and veteran producer Frank Marshall.
"We think that instead of experimenting on how to shorten the theatrical window we should work together to strengthen it and there are many ways to do that," said Magaña in his keynote address during the International Day Breakfast at Caesars Palace in Las Vegas.
The head of Latin America's biggest theatre chain was the first attendee at CinemaCon to publicly address the issue that is shaping up to be the main talking point of the convention.
"[Last year] we reached almost $40bn worldwide. Even a small dent to the theatrical window can represent billions of dollars in theatrical revenue."
Parker and Akkaraju's Screening Room proposal has already proved to be divisive among Hollywood leaders.
Sparking fears of global piracy in some quarters, the partners propose to grant owners of a $150 set-top box 48-hour access to films the day they open in theatres for a $50 transaction fee.
Magaña urged attendees to think big about the possibilities of theatrical. "Let's imagine that together we can reach in a few years not $50bn, but $60bn. So we need to protect this window that's been so important to us."
The subject came under the microscope at a panel entitled Exhibition And Distribution: Collaborating And Partnering For The Greater Cause, when 20th Century Fox EMEA evp Paul Higginson advocated keeping an open mind on the subject.
On the exhibition side, VOX Cinemas CEO Cameron Mitchell urged a collegial approach: "The industry needs to get the top ten global exhibitors and six and seven major studios, put them in a room for a weekend and not let them out until we come up with something sensible.
Meanwhile Marshall, the veteran producer and recipient of the International Filmmaker Of The Decade award, said he was eager to consider any proposal that might lure lapsed film-goers back into cinemas and did not want to do anything to harm theatre-going.
"I'm a supporter of seeing what it's like," Marshall said of the proposal during a brief on-stage conversation during the awards lunch, adding later, "I like looking at different options."
Calling Parker "a very smart guy", Marshall said he was open to finding out more. "Let's hear what they have to say. I don't think we've heard what they have to say."
CinemaCon runs from April 11-14.
Photo credit: Ryan Miller/Capture Imaging, Inc for CinemaCon.